as i look for other examples of intruders in the past everything from murder of Jeffrey MacDonald to Valerie Percy to Jaclyn Marie Dowaliby  as well as other famous children murders from Amy Mihalavic to the OCCK i came across Michelle Young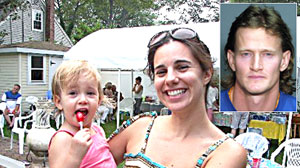 might be hard for die-hard  JonBenet Ramsey to understand but there are die-hard fans of other crimes via forums and blogs
the main suspect Michelle Young murder is husband Jason Young. as i understand he was tried and sentence to prison, but then it was overturned on appeal.
the debate is did her husband murder Michelle or an intruder(s)

From the WRAL article:

"While we were deliberating, we started naming all of these coincidences," said juror Anthony Fuller. "It was like, 'How do you just have so many coincidences?'"

Two key pieces of the puzzle helped the jury make its decision, said jury forewoman Tracey Raksnis: The clothes and shoes Jason Young was seen wearing on surveillance video the night of his wife's murder were never found and, though Cassidy Young left bloody footprints around her mother's body and throughout the house, the toddler's feet and pajamas were clean by the time Michelle Young's sister discovered her body.

"She was cleaned up. I don't see anybody else (but Jason Young) doing that," Raksnis said. "If this was just a robbery, I don't think you pay that kind of attention."

Juror Melissa Axline agreed, asking why a stranger would take the time to clean a child.

"I am 150 percent, absolutely positive that Jason Young did it. Michelle Young had no enemies," Axline said.
what makes this crime somewhat creep is they had a 2 year old daughter Cassidy (age 2 at the time) not only was she unharmed but her footprints
appear staged. specifically the killer picked up Casidy pressed her footprints into her mom's blood, then lifted her to the crime scene to make those impressions. they were NOT the result of cassidy running around.
Cassidy when she was found was clean, so her being only 2, someone other than Cassidy must have cleaned up the blood.
that's kinda creepy.
for futher reading
https://stopwrongfulconvictions.wordpress.com/2012/03/09/jason-young-case-analysis-of-the-trial-and-verdict/
https://justiceforjasonyoung.wordpress.com/2013/08/03/was-the-crime-scene-staged/

_________________
If you only knew the POWER of the Daubert side

redpill




Posts

: 2443


Join date

: 2012-12-08




---
Permissions in this forum:
You
cannot
reply to topics in this forum