star gate log 7.21.2017 fri
I'm on a forum where Jonbenet is discussed. basically everyone but me is RDI but the RDI make the same common claims of how there was no foot prints in the snow, the CBS documentary experts prove Burke did it, James Kolar proves Burke did it etc.
I've see RDI on variety of forums claiming the ransom note makes no sense. it makes no sense.
therefore either Patsy or John wrote it.
an intruder would not write something that is so nonsensical and make it so long.
therefore either Patsy or John wrote it.
either Patsy or John wrote it to convince LE, FBI, investigators and the public some strange terrorist foreign faction came and killed their daughter to cover up the fact either they or Burke killed Jonbenet.
it was a sales job.
an intruder could have written a short ransom note, we have your daughter want $200, 000 will call for instructions
instead it was a long message, rambling
therefore no intruder wrote it
therefore either Patsy or John wrote it.
here's another explanation, one grounded on science, forensic handwriting and forensic linguistics
John and Patsy have been eliminated as authors of the ransom note, by experts who meet the Daubert standard
using scientifically tested methodology in forensic document examination.
therefore, an intruder wrote it.
as for why an intruder would write a long rambling ransom note,
the intention of the killer may not be a genuine ransom note but a desire to play a joke
and the killer may simply wanted to troll the Ramseys and police
it's called trolling
my intruder theory is an intruder, Mr. Cruel, OCCK, or someone like this, entered after the Ramseys left for the White party and had 6 hours alone in the house, plenty of time to write a 2 1/2 page ransom note
he wrote it to troll the Ramseys
while this might seem unbelievable, well here's the Zodiac killer
note it is handwritten

I LIKE KILLING PEOPLE BECAUSE IT IS SO MUCH FUN IT IS MORE FUN THAN KILLING WILD GAME IN THE FORREST BECAUSE MAN IS THE MOST DANGEROUE ANAMAL OF ALL TO KILL SOMETHING GIVES ME THE MOST THRILLING EXPERENCE IT IS EVEN BETTER THAN GETTING YOUR ROCKS OFF WITH A GIRL THE BEST PART OF IT IS THAE WHEN I DIE I WILL BE REBORN IN PARADICE AND ALL THEI HAVE KILLED WILL BECOME MY SLAVES I WILL NOT GIVE YOU MY NAME BECAUSE YOU WILL TRY TO SLOI DOWN OR ATOP MY COLLECTIOG OF SLAVES FOR MY AFTERLIFE. EBEORIETEMETHHPITI


Zodiac killer is trolling police. Trolling the public.
which reads

This is the Zodiac speaking.
I am the murderer of the taxi driver over by Washington St + Maple St last night, to prove this here is a blood stained piece of his shirt. I am the same man who did in the people in the north bay area.
The S.F. Police could have caught me last night if they had searched the park properly instead of holding road races with their motorcicles seeing who could make the most noise. The car drivers should have just parked their cars and sat there quietly waiting for me to come out of cover.
School children make nice targets, I think I shall wipe out a school bus some morning. Just shoot out the front tire + then pick off the kiddies as they come bouncing out.
here's a jack the letter ripper, also handwritten
Excerpts from BTK Dennis Raider communications sent to Wichita media outlets in the 1970s. All spelling and grammatical errors are as written:

"I'm sorry this happen to society. They are the ones who suffer the most. It hard to control myself, You probably call me 'psychotic with sexual perversion hang-up'. Where this monster enter my brain I will never know. But, it here to stay. How does one cure himself? If you ask for help, that you have killed four people, they will laugh or hit the panic button and call the cops."

— Excerpt of letter left in the Wichita Public Library in 1974, discovered by The Wichita Eagle-Beacon on directions from BTK.

"The code words for me will be ... Bind them, Torture them, Kill them, B.T.K., you see be at it again. They will be on the next victim."

— Postscript to the 1974 letter.

"How many do I have to kill before I get my name in the paper or some national attention?"

— Excerpt of letter sent to KAKE-TV in 1978.

"What is this taht I can see,

Cold icy hands taking hold of me,

For Death has come, you all can see.

Hell has open it,s gate to trick me.

Oh! Death, Oh! Death, can't you spare

me, over for another year!

I'll stuff your jaws till you can't talk

I'll blind your leg's till you can't walk

I'll tie your hands till you can't make a

stand.

And finally I'll close your eyes so you

can't see

I'll bring sexual death unto you for me.

B.T.K."

— Poem, titled "Oh! Death To Nancy," sent to Eagle-Beacon on Feb. 10, 1978, along with a letter claiming responsibility for murders of Shirley Vian, Nancy Fox and another unknown victim.
April Tinsley was murdered and her killer left these taunting messages, trolling really
Leopold and Loeb had abducted and murdered Bobby Frank, and they were very wealthy came from wealth and had super high IQ and were Univ of Chicago law students but still wrote multiple letters such as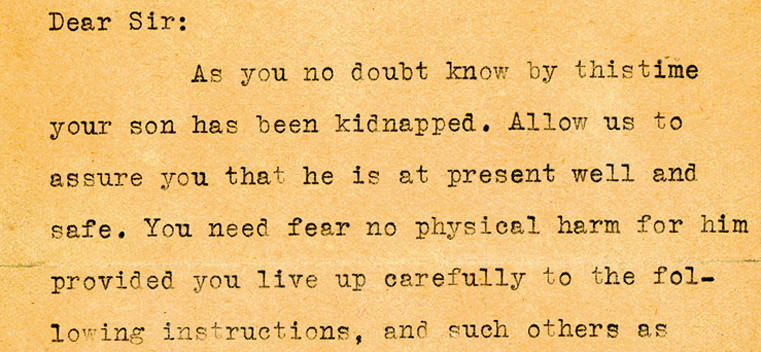 my suspect Mr. Cruel left a written message
Payback asian drug dealer more and more to come on Karmein Chan's family home
also made ransom demands. despite this his actual motive was pedophile sexual

_________________
If you only knew the POWER of the Daubert side

redpill




Posts

: 2816


Join date

: 2012-12-08




---
Permissions in this forum:
You
cannot
reply to topics in this forum