unsolved mysteries discuss some famous missing children and women, some that come to mind are the Beaumont children, Lyons sisters, Eloise Worledge, Morgan Nick, Natalie Holloway, Madeleine Mccann to name a few
ID channel has a whole series on Disappearance. the most famous one of all that gets discussed a lot is Disappearance of Maura Murray
wikipedia has an article on missing white woman syndrome

Missing white woman syndrome is a phrase used by social scientists[1][2][3] and media commentators to describe the extensive media coverage, especially in television, of missing person cases involving young, white, upper middle class women or girls.[4] Instances have been cited in the United States, Canada, and the United Kingdom. The phenomenon is defined as the media's undue focus on upper-middle-class white women who disappear, with the disproportionate degree of coverage they receive being compared to cases of missing men, or women of color and of lower social classes.[5][6]

PBS news anchor Gwen Ifill was said to be the originator of the phrase.[6] Charlton McIlwain, a professor at New York University, defines the syndrome as white women perpetually occupying a privileged role as violent crime victims in news media reporting, and concludes that missing white woman syndrome functions as a type of racial hierarchy in the cultural imagery of the West.[7] Although the term was coined to describe disproportionate coverage of missing person cases, it is sometimes used to describe the disparity in news coverage of other violent crimes. Missing white woman syndrome has led to a number of right-wing tough on crime measures that were named for white women who went missing and were subsequently found harmed.[8][9]

Moody, Dorris and Blackwell (2008)[10] concluded that in addition to race and class, factors such as supposed attractiveness, body size and youthfulness function as unfair criteria in the determination of newsworthiness in coverage of missing women. Also noteworthy was that news coverage of missing black women was more likely to focus on the victim's baggage, such as abusive boyfriends or a troubled past, while coverage of white women tends to focus on their roles as mothers or daughters.[11]
one thing i've wondered about is what determines which missing become famous and in the news media, and which ones just get a mention
while researching i came across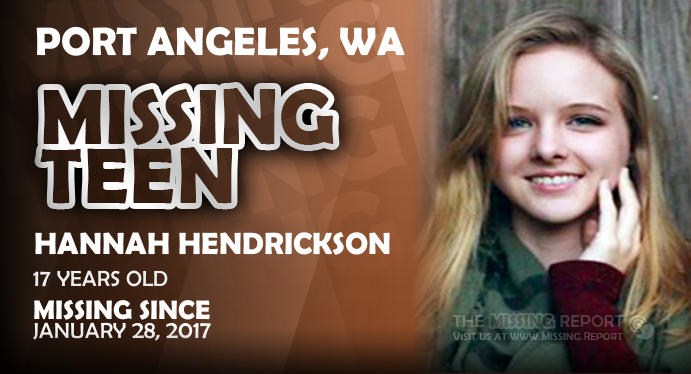 PORT ANGELES — The family of a 17-year-old Port Angeles girl who has been missing since January is offering $4,000 for information about her whereabouts.

Hannah Hendrickson left her home early Jan. 28 with her dog — a gray chihuahua — and her clothes, said her grandmother, Jan Hendrickson.

After more than two months without any tangible evidence of the teen's whereabouts, the family has decided to offer a $4,000 reward for information that brings her home, she said.

Hannah is Caucasian, 5-foot-8, weighs 120 pounds and has blond hair and pierced ears, according to Port Angeles police.

Hannah was last known to be wearing black Nike shoes, black yoga pants and a sweatshirt that's white on top and maroon on the bottom, according to police. She also has a gray peacoat.

"We just want to hear that she's OK and that she's OK where she is," Jan Hendrickson said. "Or has something happened to her that we don't have a clue about?"

She described the past few months without Hannah as horrendous and said the family doesn't even know if she's still in Port Angeles.

"Her mom and her dad love her, and I don't know if she realizes how much her mom and dad miss her," she said. "We all miss her very much. We just need to hear something."

Hannah apparently sent to Peninsula College a "manifesto" regarding why she ran away, saying she left with a friend from school and had no plans of coming back anytime soon, according to police records.

She also left a letter for her sister.

Deputy Chief Jason Viada is urging anyone who sees Hannah to call 9-1-1 immediately and keep her in sight.

Since she was reported missing, callers have told police they saw her, Viada said; however, they waited before calling police or called someone else first, police records show.

"It's important to call dispatch first and if it's an emergency, call 9-1-1," Viada said. "Seeing something you think is important and then calling someone else first drastically lessens the chance police are going to arrive in time."

He asked that anyone who sees her driving call police immediately and follow her. It is legal to talk on the phone while driving if the driver is talking to dispatch, he said.

Though most sightings were debunked when officers followed up or couldn't be confirmed, on Feb. 14, an officer believed he spotted her at a restaurant downtown.

When the officer showed photos of Hannah to employees at two restaurants, the employees confirmed that person had been there recently.

Officers contacted Hannah's twin sister and found that she hadn't been to those restaurants and had worn different clothes.

Police have searched one Port Angeles home for Hannah twice in connection to her disappearance but have not found her, Viada said.

He said the homeowners consented to the search and that police haven't had probable cause for a search warrant.

"There has been information regarding suspicions she might have been at a particular house," Viada said. "It's not a question of what we believe; it's a question of what we can prove.

"Obviously, our burden of proof is probable cause."

The homeowners invited police to look through the house Feb. 2 and Feb. 14. No trace of Hannah was found.

http://www.peninsuladailynews.com/news/family-offers-4000-reward-for-information-about-missing-teen/
sounds like a run away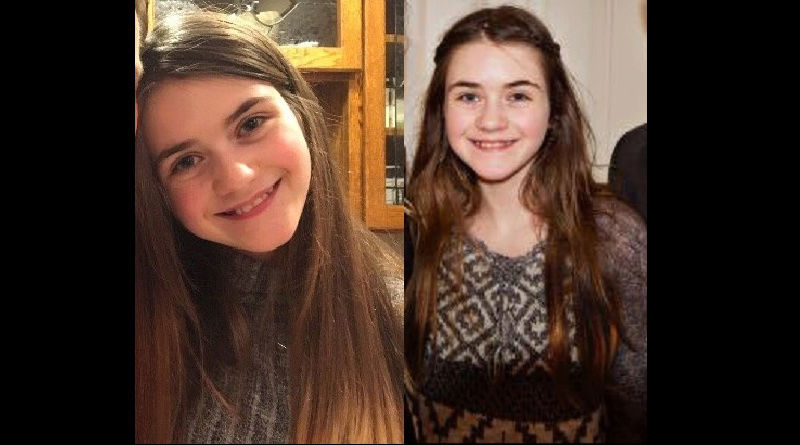 MAPLE VALLEY — The Maple Valley Police Department is asking for the local public's assistance in locating missing 12 year old Vail McCann out of the Maple Valley, Washington area.

Vail was was last seen walking in front of her home in the 24000 block of 247th Place SE in Maple Valley, Washington around 9:30 pm on Friday, July 28, 2017.

Vail might be in the Maple Valley or Ravensdale, Washington areas.

The Everett Police Department is asking for the local public's assistance in locating missing 14 year old Journey Runyan out of the Everett, Washington area.

Journey was last seen on July 28, 2017.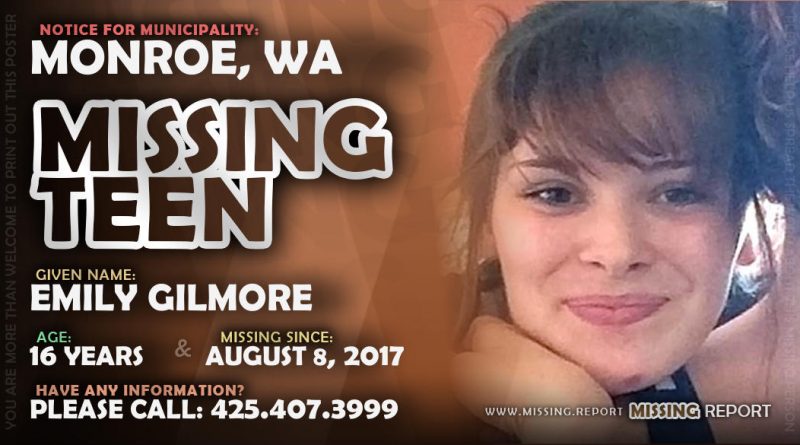 The Monroe Police Department is asking for the local public's assistance in locating missing 16 year old Emily Gilmore out of the Monroe, Washington area.

Emily was last seen August 8, 2017. She may use the alias name Stephanie Hernandez.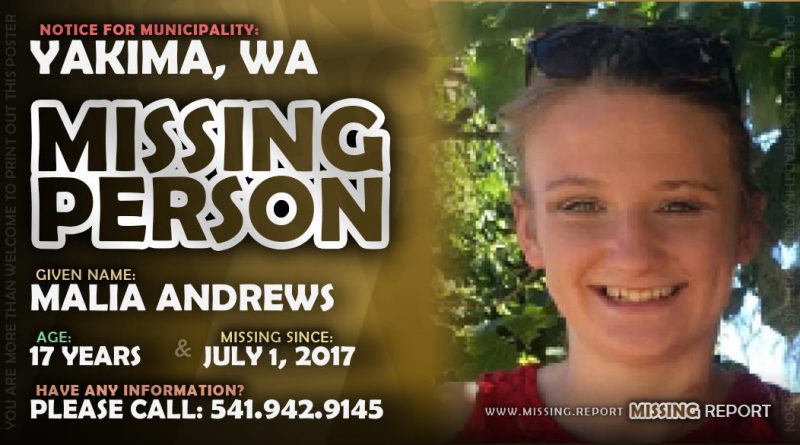 The Cottage Grove Police Department is asking for the local public's assistance in locating missing 17 year old Malia Andrews out of the Yakima, Washington area.

Malia was last seen on July 1, 2017. She may be in the company of an adult male. They may still be in the local area or they may travel to Cottage Grove or Klamath County in Oregon, California or Nevada..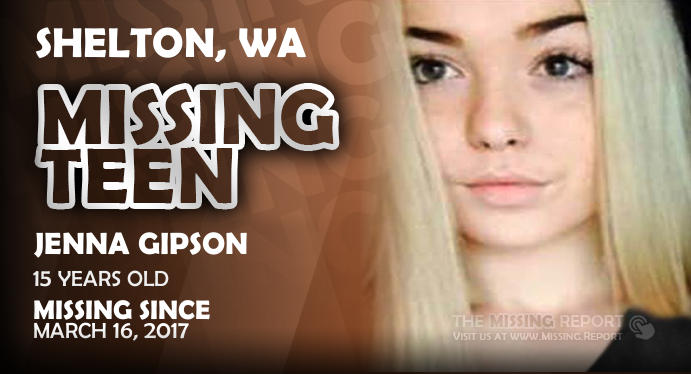 — The Shelton Police Department is asking for the local public's assistance in locating missing 15 year old Jenna Gipson out of the Shelton, Washington area.

Jenna was last seen on March 16, 2017. Jenna may have traveled to Centralia or Chehalis, Washington.
Washington state looks like an awesome place to grow up in, with bigfoot and forests.
still, these missing um who knows what might have befallen them.
Disappearance of Maura Murray and Madeleine Mccann got a lot of publicity. the above from Washington state not so much, though Washington state does keep them on their website
if i went missing will it get any news or publicity?

_________________
If you only knew the POWER of the Daubert side

redpill




Posts

: 2819


Join date

: 2012-12-08



Charlotte Mosley, 17 disappeared with the family cat more October 25,2016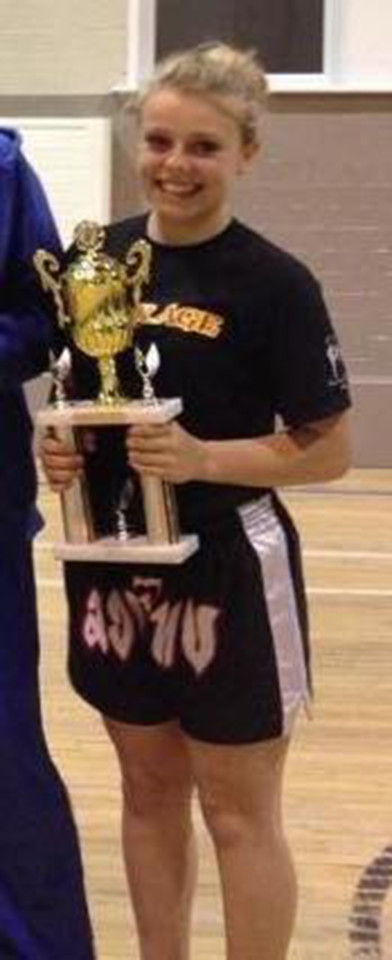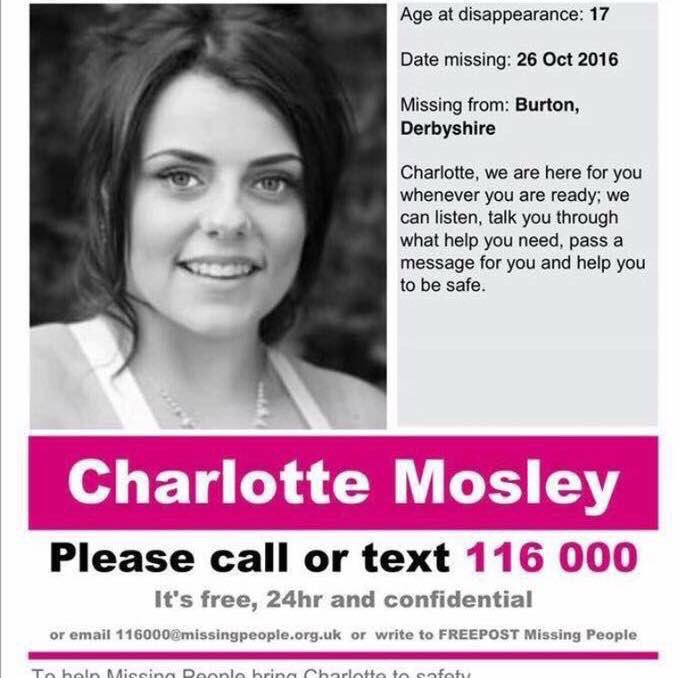 Her mother, Shelley, went into the 17-year-old's bedroom but found her gone ten days ago and has said: "I just want my baby back" as they begin to fear the worst.

Since she disappeared her mum and sister, Megan, have issued heartbreaking appeals to find Charlotte.

Her family say she is "vulnerable" and "high risk", and described her disappearance as "not a typical teenage runaway"

It had been thought that she could have gone to stay with friends in Burton-on-Trent where she grew up, as the family moved from the area three days before she went missing.

Since she disappeared her family have been desperately knocking on doors in the area to try to locate her.

Meanwhile, family in Derby have also been spreading the word in the city of her disappearance.

Charlotte left the family home in Sinfin, Derby, with the family cat and only the clothes she was wearing.

Her mother, Shelley, said she had opened her daughter's bedroom door last Tuesday to check on her to find she had gone.

She said: "It is very unusual for her to go missing. She has never done anything like this before.

https://www.thesun.co.uk/news/2106665/familys-agony-after-teen-kickboxing-champion-17-disappeared-with-the-family-cat-more-than-a-week-ago/
no updates if she's been found as of Sept 13, 2017. cat is also missing. i'd suggest they show that cat to. if she did return safe would it be news?

_________________
If you only knew the POWER of the Daubert side

redpill




Posts

: 2819


Join date

: 2012-12-08




---
Permissions in this forum:
You
cannot
reply to topics in this forum