i'm writing this on  Sat Nov 11, 2017 12:10 pm
*warning contains graphic description of female bodily function*
i click on news
overlife i've heard mass shootings, rapes murders abductions hate crimes stabbings robberies
but this is um i would say in another class "different"
ah college freshman i remember.
in college news Brianna Brochu & Jazzy Rowe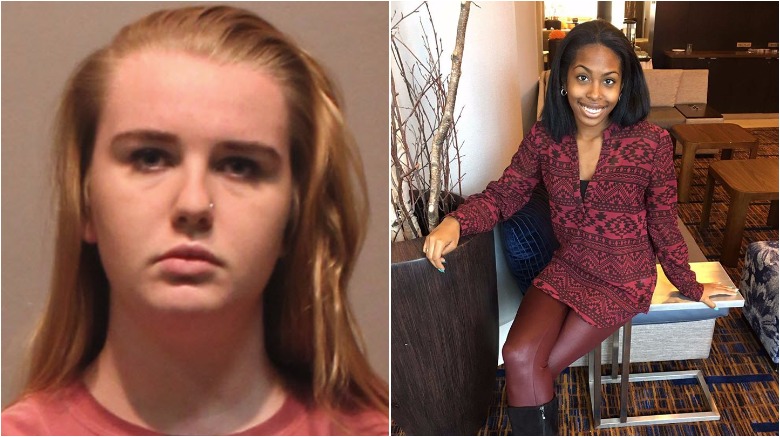 this is Brianna Brochu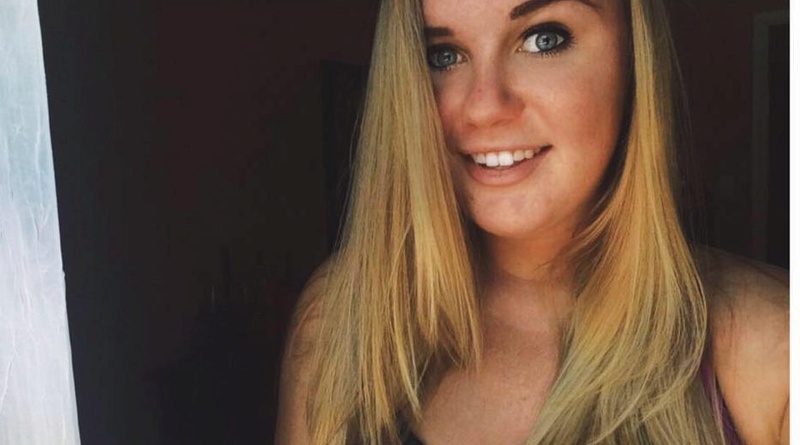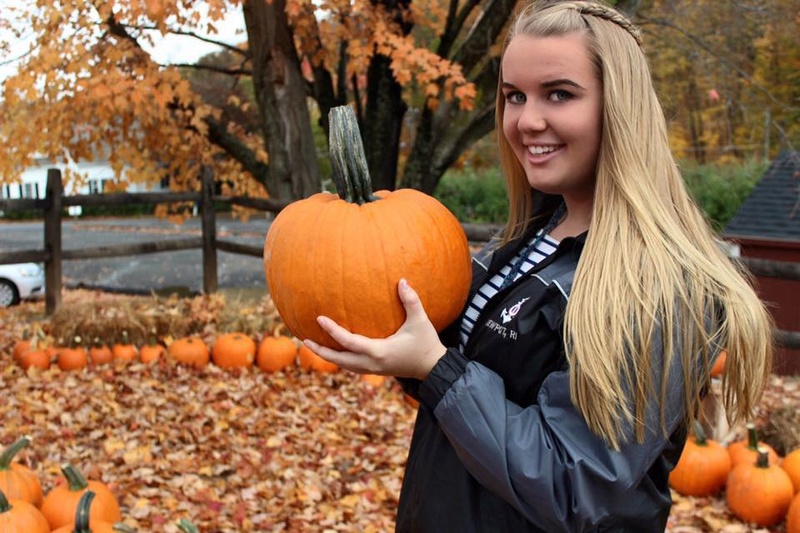 this is Jazzy Rowe
what do you think when you see this sweet young face of a college freshman attending college her very first time?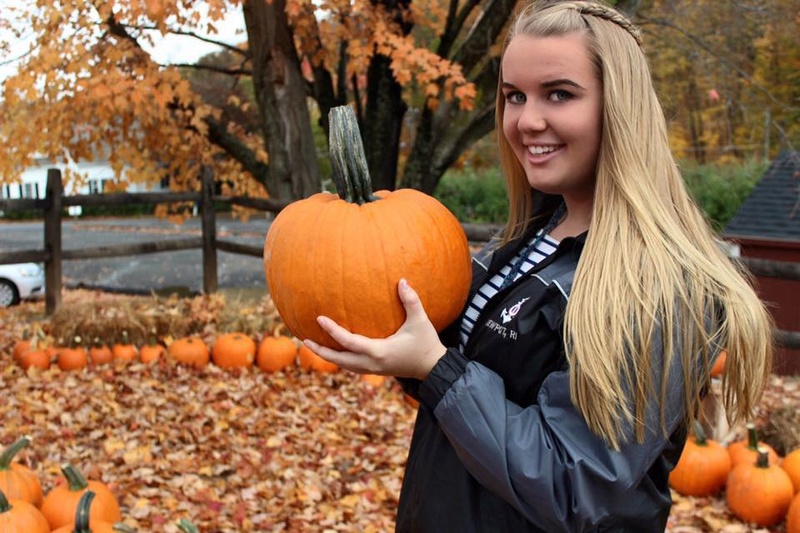 wholesome american pie? all american girl? girl next door?
uh...
heavy wrote:

A white college student is facing a hate crime charge after she secretly "poisoned" her black roommate for several weeks, admitting to putting her tampon blood on her backpack and licking her plate, fork and spoon, out of "spite," police say.

Brianna Brochu, 18, of Harwinton, Connecticut, was arrested by the West Hartford Police Department on October 28 and charged with second-degree breach of peace and third-degree criminal mischief, both misdemeanors, state court records show. On November 1, after the case gained national attention, West Hartford Police said that "after a review" they will be requesting an added charge of intimidation based on bigotry or bias, a second-degree felony.

Brochu is no longer a student at University of Hartford, where she was a freshman, the school announced Wednesday, October 31. Students are planning a #JusticeforJazzy march on November 8 at 5 p.m.

https://heavy.com/news/2017/10/brianna-brochu-jazzy-rowe-university-hartford-roommate-instagram/
more details
heavy wrote:
1. Brochu Bragged She Put Moldy Clam Dip in Rowe's Lotion, Rubbed Used Tampons on Her Backpack & Put Her Toothbrush 'Where the Sun Doesn't Shine'

Brianna Brochu bragged on her Instagram page about what happened just moments after Chennel "Jazzy" Rowe told her she was moving out, Rowe said.

"Finally did it yo girl got rid of her roommate!! After 1 1/2 month of spitting in her coconut oil, putting moldy clam dip in her lotions, rubbing used tampons (on) her backpack, putting her toothbrush places where the sun doesn't shine and so much more I can finally say goodbye Jamaican Barbie."

West Hartford Police were called to the University of Hartford on October 18 about 1 a.m. for a report of a "vandalism/harassment issue between two roommates," according to court documents. The roommates were both in the campus public safety office at the time. Rowe had reported to campus police that Brochu was "tampering with and vandalizing her belongings."

The victim, Rowe, told police that since the start of the school year she felt "ostracized" by Brochu, according to the police report obtained by Heavy. She said "Brochu generally ignored her and treated her as a 'ghost,'" Officer Anthony Miele wrote in the documents. Rowe told Miele that she put in for a room change because of how Brochu treated her and on October 17 she began moving her belongings out of her room into one in another dorm building, the report states. "At that time she was approached by a neighbor … along with two campus resident assistants. (The neighbor) told Rowe that she had seen some very concering posts made by Brochu on Instagram."

Rowe said the neighbor showed her pictures of the Instagram posts, which were posted by user @breezy_bumble_b," whom the neighbor knew to be Brochu. "The Instagram posts that (the neighbor) was concerned about appeared to be Brochu bragging about how she tampered with Rowe's personal items unbeknownst to Rowe," Miele wrote.

heavy wrote:
The first was of a purse later determined to belong to Rowe, stained with a reddish brown substance. Brochu later told me that was 'period blood' from the used tampon. The second picture was a plastic food container with a milky white substance in it with a caption of, 'Like this is moldy clam dip and I've been mixing it with her face lotion.' The third picture appeared to be of some type of weave hair piece and had a caption of, 'This b*tch legit bought a box of f*cking hair."

Brochu told Miele that she did "lick Rowe's 'plate, fork and spoon,' put tampon blood on Rowe's backpack, and mixed Rowe's lotions with other lotions also on Rowe's desk." But Miele said Brochu "denied doing anything further and stated that anything else she bragged about on social media was a lie in an attempt to 'appear funny.'" Miele said Brochu did confirm that the red stain on her ex-roommate's backpack was "her own used tampon blood." Brochu told the officer, "that she took these actions against Rowe out of 'spite because of the hostile living environment and had 'no intent of injury or to get her sick,'" according to the report. You can read the court documents below or here:

Rowe told police she had been "experiencing what she described as severe throat pain, to the point that she visited UHART Health Services for evaluation. Rowe stated that she tested negative for strep throat and Mono, however the urse told her there was 'bacteria present in her throat.' Rowe could not elaborate further on this subject, but felt her throat pain was a result of Brochu tampering wiuth her personal items. Rowe also confirmed that her backpack was still stained with blood."

Miele said "Brochu and Rowe were told not to contact one another and they each signed no contact agreements. Rowe moved her remaining items out of her old room while I spoke with Brochu." On October 21, Miele applied for an arrest warrant. It was reviewed by a prosecutor on October 25 and then signed by a judge on October 26. Brochu turned herself in on October 28 and was released.

Brochu is a freshman from Harwinton, Connecticut, a town in Litchfield County about 35 minutes away from West Hartford, where the University of Hartford is located. She graduated from Lewis Mills High School in 2017, according to the Republican American newspaper. In April, she wrote on the University of Hartford Class of 2021 Facebook page that she was looking for a roommate.
another source adds
for further reading
ref
https://heavy.com/news/2017/10/brianna-brochu-jazzy-rowe-university-hartford-roommate-instagram/
http://kutv.com/news/nation-world/police-student-put-body-fluids-on-roommates-belongings-11-01-2017
so look at this chick who is 18 and a former college freshman
Brianna Brochu (18)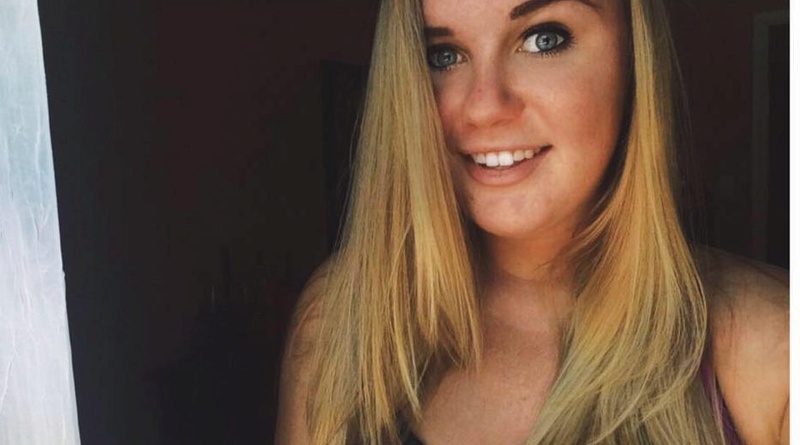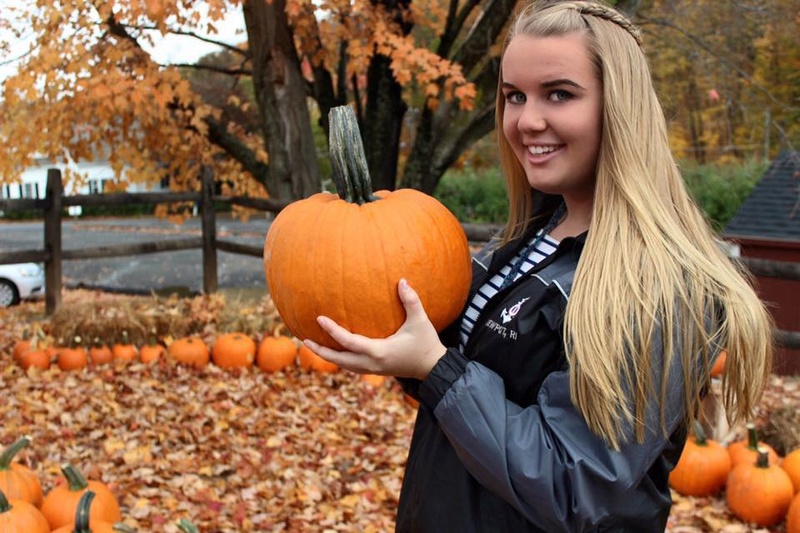 when she is assigned a black roomate she puts her period blood all over her roomate backpack and inserts her roomate toothbrush into her own rectum.

so behind that sweet face of an all american girl with blonde hair and beautiful blue eyes uh someone who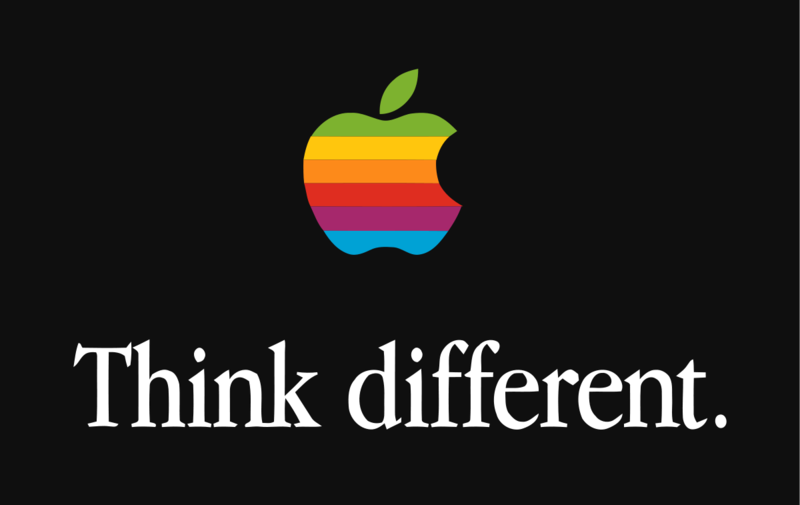 ever cross your mind to put your menstrual period blood on your roomates personal items and inserting your roomate toothbrush into your ass?
well for one  all american girl with blonde hair and beautiful blue it has. makes you wonder how often this happens and they don't get caught.
perhaps she should give up on college and consider some other line of work
so when i read RDI claims
over at websleuths posters have claimed
detective pinkie wrote:
Hold yourself to the same standards - explain why an intruder would leave a body and a note, simply and believably
tawny wrote:
the fail in logic is astounding.

This is an example of NO IDI explanation. Why would an intruder hide her body? Seriously, please answer that for me. Why would an intruder hide her body rather than take her with them and dump her, or leave her where she was? Did an intruder seriously believe she would NEVER EVER be found inside the house?

Serious question: Why would an intruder hide her body in a dark room in a basement?



If he wanted to ensure it was found, why hide it? If he had to bug out, not taking the kidnapped-turned-murdered with him, why did he leave the note?
Delay discovery to what end? If he were bugging out, why would he care when, where, and how she's found?

It makes zero logical sense.
ukguy wrote:
Mama2JML,
Why does an intruder need to bother with a RN at all, all that sitting around authoring a RN, increases the risk of being caught.

No JonBenet in the house tells its own story, when followed up with a ransom phone call, no RN is required.

There is no IDI explanation forthcoming as to why the said intruder did not remove JonBenet from the house, which is just as inconsistent as any staged kidnapping leaving JonBenet in the house!

Intruder plan of action: Enter Ramsey household remove JonBenet, dead or alive, relocate to the boot of awaiting car, then simply drive away. Next day phone ransom demands. Total time to execute less than fifteen minutes!

nimyat of reddit wrote:
There is absolutely 0 reason to start to write a draft ransom note and then write the real thing and make it that ridiculously long.

If it was a premeditated kidnapping, ('hid in the house' theory) why the fuck wouldn't you bring a ransome note with you and why the hell would you start to draft one and then write one on paper found in the house.

If it was a burglary turned kidnapping, why would you start to draft a ransom note, and then write the real thing 4 pages long? You would scribble something like "I've taken your daughter, dont contact police, deposit money at this location at this time if you want to see her again." A panicked burglar does not sit and start writing about his 'organisation'.

A lot of people get bogged down in the details of the case, because it is a fascinating one and it is very interesting, but the ransom note is the most ridiculous thing ever and was totally written by one of the family in my opinion. They also completely over thought it - mentioning the fathers business, his bonus, writing 4 pages worth etc.

There's no way the family wasn't involved. As for which one did it, that is what is hard to prove.

docg makes a similar claim
docg wrote:

Questions

An intruder intending to express his anger or disdain for the Ramseys would have had no reason to write a meaningless ransom note. A kidnapper would not have left both the note and the body. If the parents were involved in this together, as so many assume, such a note might serve to throw the police off the track, but only if the body were found, days later, in some remote area. Or never found. With the body hidden in the house, where it is sure to be discovered, the note only creates problems for the Ramseys, the only ones who could "logically" have written it. If they were not planning on getting the body out of the house before the police came, then why would they write an obviously phony note?

Also, why was the note hand printed? Why not print it via computer? Or paste words together from newspapers? If the parents, or anyone at all close to the family, wrote it, they would be risking exposure for sure.

Answers

No intruder would have had anything to gain by writing the ransom note. No intruder would have any reason to write it. A kidnapper would have taken the child (or her body) with him. If something had gone wrong with his plan, he would have had no reason to leave a possibly incriminating note. Someone intending to frame John or Patsy would not have written the note in his own hand, as that would be evidence of an intruder. The conclusion is simple: there was no kidnapper. There was no intruder. The note must have been written by someone on the inside -- and it does indeed read like a staged kidnapping attempt.
tawny wrote:
the fail in logic is astounding.

This is an example of NO IDI explanation. Why would an intruder hide her body? Seriously, please answer that for me. Why would an intruder hide her body rather than take her with them and dump her, or leave her where she was? Did an intruder seriously believe she would NEVER EVER be found inside the house?

Serious question: Why would an intruder hide her body in a dark room in a basement?


the IDI explanation is that he wanted to.

Serious question: Why would an intruder hide her body in a dark room in a basement?
Can RDI explain why Brianna Brochu inserted her roomate toothbrush into her rectum, put her menstrual blood over her belongings, then bragged about it on social media?
If someone wants to do something they do it.

_________________
If you only knew the POWER of the Daubert side

redpill




Posts

: 2819


Join date

: 2012-12-08




---
Permissions in this forum:
You
cannot
reply to topics in this forum