Thu Aug 16, 2018
when i was in second grade, my parents moved and i went to a public school within walking distance. i lived in second floor of an apartment.
next to the apartment was kinda a strange house, i had no idea who lived there but you could frequently see cats staring out the window.
across the street were 2 houses. in one house lived a blonde girl named Feather who was like 1-2 grades ahead of me, and slightly older but still a young child, she had long legs and slender and shoulder length straight blonde hair and blue eyes. the adjacent home had a son named francis and 2 identical twin daughters and a henpicked husband and a highly abusive mother.
the house adjacent to the apartment complex i lived in had orange colored day lilies like these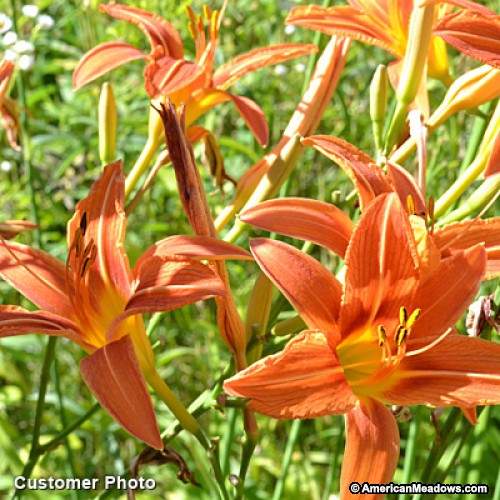 there were large patches of these day lilies in this strange house with cats, on the side of the house, which is adjacent to the parking garage of my apartment building, and in that house backyard,  behind the small lawn, and some tall trees.
i still remember it and i am picturing it right now.
now what i have to say is a lot like the twilight zone episode nightmare at 10,000 feet
where William Shatner said he saw a man on the airplane, but every time the passengers and airline stewarts looked out his window, it was gone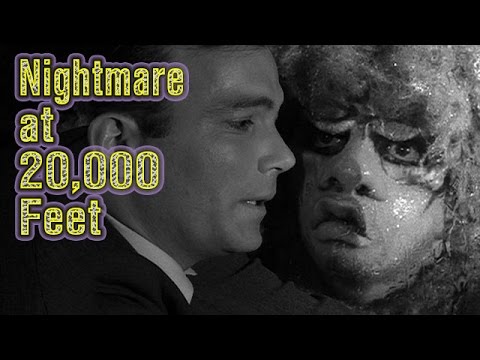 i can personally identify with this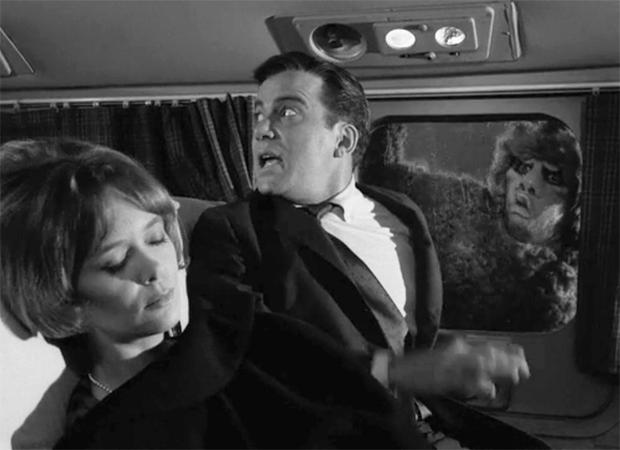 my own personal life experience and this particular episode of the twilight zone episode caused me to have a life long love of paranormal stories, from twilight zone to outerlimits to hitchhiker's guide to the galaxy, to Triangle 2009
i was in second grade and probably age 6-7 at the time.
in the orange day Lilly patch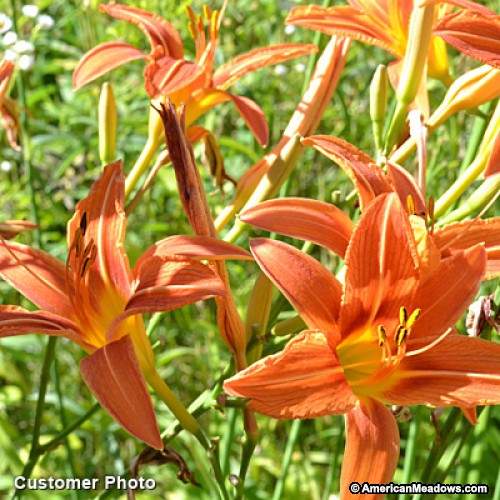 i, and i alone, saw a rainbow colored grasshopper of cricket, that was slender
it was something like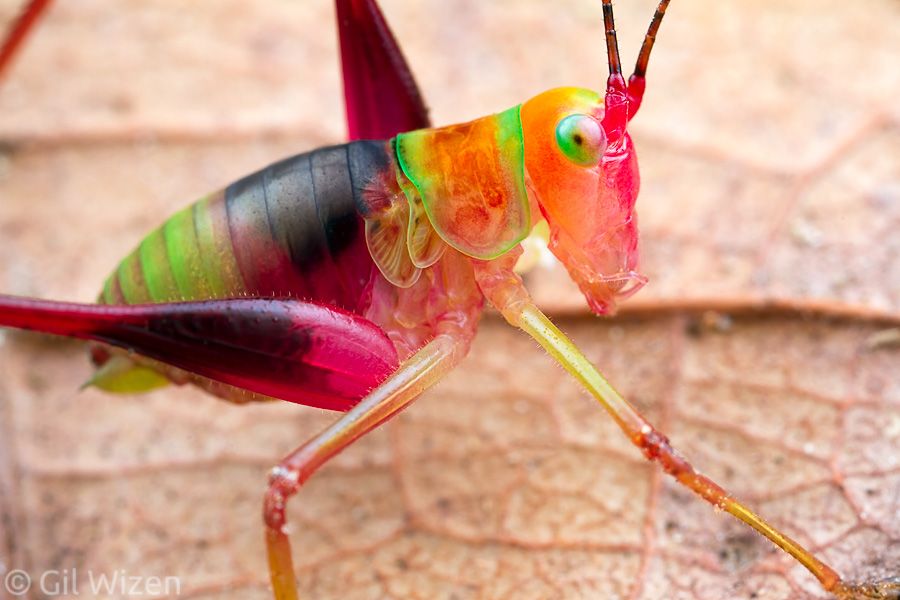 i told this to my mom but was unable to see it. i told this to the girl across the street,  but when she arrived it disappeared. same with the boy. my dad didn't see it either.
it was exactly like nightmare at 10,000 feet only with a multiculored grasshopper or cricket or katydid on the orange daylights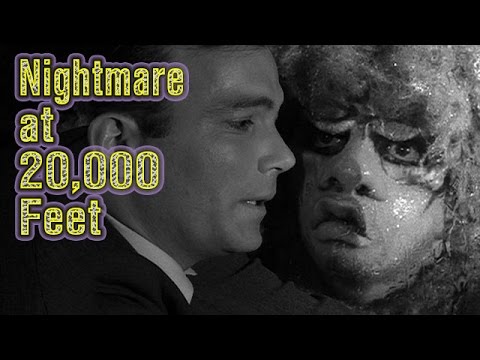 only i didnt see it, weeks would go by before i glimpsed another sighting.
so obviously a lot of kids and their parents and my parents were skeptical of this rainbow colored grasshopper only i could see on the day lilies.
one day, i saw this rainbow grasshopper on the daily lily, in the day lilies patch by the garage, and without hesitation i grabbed it with my hand and i caught it!
i caught the rainbow grasshopper among the orange lilies. i then put it in an empty glass fruit jar.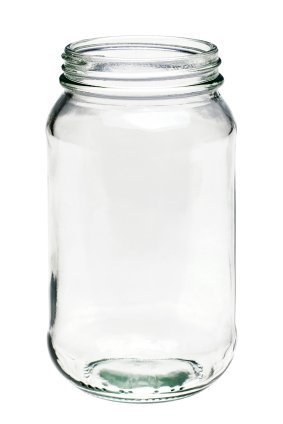 i showed it to the other kids, including Francis and Feather.
Feather asked if she could keep it for a couple days to show others and she promised to return it. i said ok.
Feather had a birth day with a pinata, she invited me and i went, and i was blind folded and told to hit the pinata, but i wasn't able to break it and my turn was up. i think Feather or her sibling was the one that actually broke it apart and the candy fell. first time in my life i attempted a pinata.
after that i asked for my grasshopper i caught in the glass bottle and guess what
Feather said no she's keeping it. it was like a birthday gift
uh-huh.
at one point it was sitting on the back porch and i saw it and i grabbed it, but then Feather grabbed it to.
so she and i had a tug of war, both our hands were on the glass bottle inside was the rainbow grasshopper i caught.
she was slightly older and taller and she actually was able to wrestle away the glass jar from me and put in her house. i never saw it again.  

i think i learned a lesson that day.
a year later i moved and i never saw Feather again.
in the years to come i would frequent orange day lily patches hoping to catch another example of this rainbow colored grasshopper and i never did see another example of this specimen ever again. anywhere.
it seemed i caught the very last rainbow colored grasshopper among the orange day lilies ever to exist and it's now extinct.
i've done internet searches and i've never found any grasshopper or cricket that resembles what i caught so many years ago
there are 7.5 billion people on this planet. if Feather is still alive and remembers, she'd be the one other person who knows this story to be true. she, after all, was the one that asked to see my grasshopper then kept the jar it was in and never returned it. she did invite me to her birthday party with the pinata though.
i wonder what she thought just before i captured it. i was telling this fourth grade long legged slender blonde girl, that i saw a rainbow colored grasshopper in the orange lily patches. she said cool, can she see it. so i took her to the orange patches and it was gone. i didn't see it and she didn't either. this happened a couple of times until i finally caught it with my bare hands.
she kept it. i wonder if after all these decades she still has it

it'd be dead and moldy by now.

_________________
If you only knew the POWER of the Daubert side

redpill




Posts

: 3803


Join date

: 2012-12-08




You are amusing. And you must be cute too having so many dynamic women in your life.

searchinGirl




Posts

: 423


Join date

: 2018-06-21



searchinGirl wrote:
You are amusing. And you must be cute too having so many dynamic women in your life.
thanks haha

_________________
If you only knew the POWER of the Daubert side

redpill




Posts

: 3803


Join date

: 2012-12-08




---
Permissions in this forum:
You
cannot
reply to topics in this forum