Holly's friends did not know this but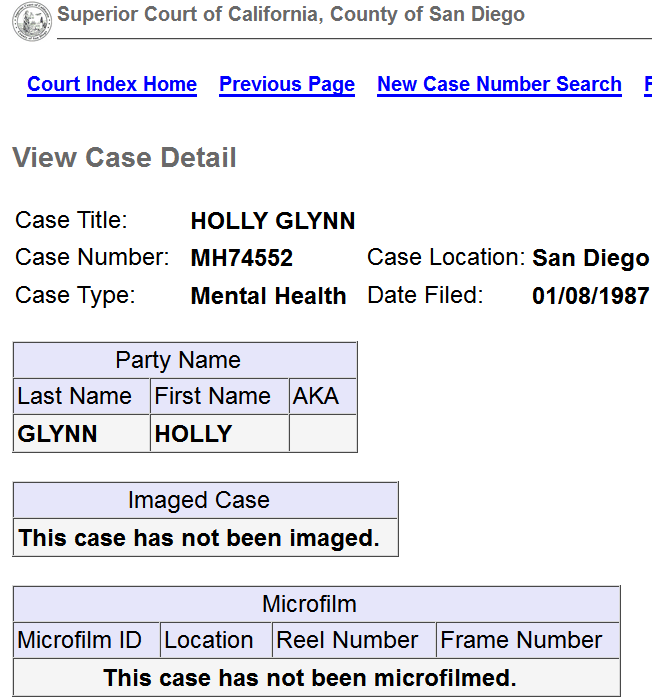 Holly's friends don't know anything about this. But these court records show that Holly's caretakers attempted to compel the courts to order Holly into psychiatric treatment in Jan 1987, several months prior to her suicide.
the following story is an example of a young white female, 20+ years old who committed suicide due to mental illness.
I am not suggesting that Holly suffered the *same* mental illness as Natalie Fuller. it gives something to work with.
'She's still the bravest person I know': Mom who wrote bestseller parenting guide with her daughter describes her slow and painful descent before she was driven to kill herself

   Natalie Fuller, 28, stepped in front of a train in Baltimore last month
   Mother Doris shared an account of her life this week in heartfelt article
   Told how she was diagnosed with psychosis and bipolar disorder aged 22
   Pair wrote bestselling book, Promise You Won't Freak Out, in 2004
   Featured nationally on network news and was featured on Oprah
Read more:
http://www.dailymail.co.uk/news/article-3049926/She-s-bravest-person-know-Mom-wrote-bestseller-parenting-guide-daughter-describes-slow-painful-descent-driven-kill-herself.html#ixzz3dWa8jylw
Follow us: @MailOnline on Twitter | DailyMail on Facebook
Doris A. Fuller daughter committed suicide by stepping in front of a train. Holly jumped off a cliff.
The following is from
http://www.washingtonpost.com/national/health-science/the-demons-got-my-beautiful-loving-daughter/2015/04/20/cdaaa338-dfc2-11e4-a1b8-2ed88bc190d2_story.html
reprinted here for informational purposes only. No copyright infringement intended. this story was reprinted on many sites.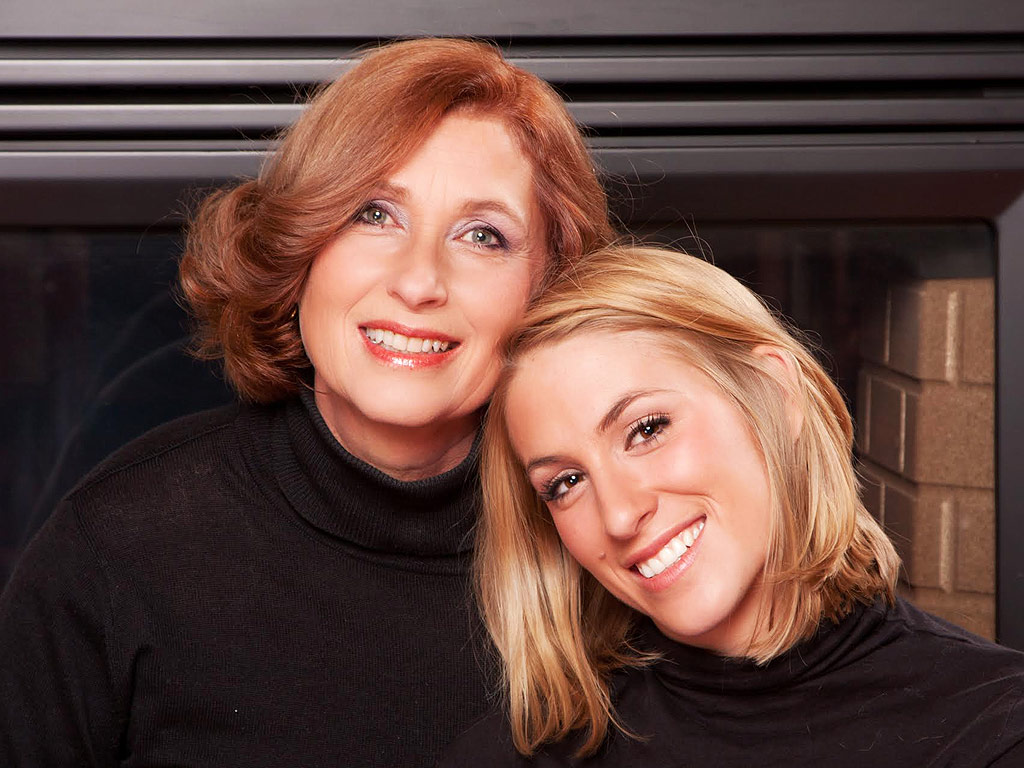 Holly was 21, same age as Natalie. Both white females from middle class respectable backgrounds. What happened to Natalie Fuller may offer insights as to what might have happened to Holly. Again, we do not know exactly what happened.
By we, i mean me and Holly's friends.
doris fuller wrote: By Doris A. Fuller April 20

I lost my darling daughter Natalie to mental illness last month. She killed herself a few weeks short of her 29th birthday by stepping in front of a train in Baltimore.

Natalie and I wrote a book together when she was 16: "Promise You Won't Freak Out: A Teenager Tells Her Mother the Truth About Boys, Booze, Body Piercing, and Other Touchy Topics (and Mom Responds)." The idea of a teenager telling the truth about her secrets was such a startling concept that we were feature-page headliners in the Baltimore Sun and about two dozen other newspapers, went on TV coast to coast, including on one of the morning shows, and got paid to give speeches. "Oprah" called.

In the book, we used a device to signal whenever a wild turn was about to take place: And then . . . . In the introduction, I defined an And then . . . moment as "one of those critical junctures when my cheerful sense that all was right in the world collided with inescapable proof that it wasn't."

he book was published to great reviews the week before Natalie finished high school. Amazon named it the best parenting book of 2004. It was nominated for a national prize. It was translated into Lithuanian and Chinese.

And then . . . .

At 22, during the second half of her senior year of college, Natalie experienced a psychotic break. In the span of a few weeks she went from being a dazzling young adult with the world at her feet to a psych-ward patient with an arrest record. Only much later did I learn what a devastatingly common trajectory this was.

Psychotic disorders nearly always emerge in late adolescence or early adulthood, with onset peaking between the ages of 18 and 25, according to Thomas Insel, director of the National Institute of Mental Health. Scientists don't know why. Many researchers are focusing on abnormalities in the way the brains of people who behave psychotically develop during adolescence. Others are investigating genetics, prenatal circumstances and environmental conditions.

Some consensus has emerged around the concept that psychotic breaks like Natalie's are not, as they may seem, abrupt but rather are the climax of a long buildup. In this model, they are rooted in molecular changes in the brain that begin as much as a decade before symptoms occur and progress to an end-stage psychosis in which reality surrenders to delusion, paranoia, hallucinations or other forms of disordered thinking. This idea suggests the possibility, both tantalizing and controversial, that children might someday be screened for psychosis indicators the way they are screened for other health risks, with the hope of reducing the onset of psychosis much as we have reduced the prevalence of heart attacks.

Natalie's symptoms probably began in her junior year of college, but — like nearly every other family member who ever talked to me about their own loved one's unraveling — I had no frame of reference to recognize them for what they were.

She went a week without sleeping more than a few hours a night and seemed to have endless energy. But she was traveling abroad then and relying on caffeine to stay awake. Our family saw this as jet lag, not mania. A few months later, she reported that one of her friends had begun whispering whenever Natalie turned her head away. But the girls were on the road together in close quarters and having some spats. With no history of mental illness in the family, auditory hallucinations never crossed anyone's mind.

Only half a year later — when the whisper of her friend grew into a chorus of strangers issuing commands that led to Natalie's arrests for offenses such as trespassing — did the connection become apparent. Again, commonplace: The average duration of untreated psychosis in America is 70 weeks, Insel says.

Like most people in the midst of psychiatric crisis, Natalie maintained that she was fine and that "everyone else is crazy." She continued to deteriorate until police officers, responding to still another call, took her to a hospital emergency room instead of to jail. After a series of psychiatric examinations and a court hearing, she was committed to the state's public psychiatric hospital. She received intensive treatment for severe bipolar disorder with psychosis until she was stable and symptom-free two months later.

Natalie came home sane, revived and seemingly her vibrant old self. She moved in with me for the summer and taught me how to like grilled tofu and make egg scrambles. She concocted the best mixed salads of my life. She filled my house with her original art, her friends and her irrepressible spirit. Mental illness was not a theme. She returned to college to restart her senior year. I saw her off with an emptier stomach but oh so much optimism.

And then . . . .

Three months later, Natalie abruptly stopped taking the medications that had kept the manic swings and auditory hallucinations at bay. Within minutes of walking through the door for a weekend at home, her delusion-loaded thinking and behavior made it obvious that what I eventually came to think of as "the demons" were back.

Natalie's relapse was worse than her first break: the psychosis and hospitalization longer, the recovery harder to achieve, the eventual medications more complicated, the resulting future not as bright. Her second commitment to the hospital lasted 10 months, an eternity in an era where the average psychiatric stay is about five days and most people who are psychotic never get a bed at all. Thanks to the intensive care, she rebounded again, albeit more slowly, and finished her bachelor of fine arts degree. Her attending psychiatrist from the hospital and several staff members drove 75 miles to attend her senior art show. It was a triumph for us all.

But, as is true for far too many individuals and families and professionals who live with or around untreated severe mental illness, the And thens continued. While Natalie seemed happier and more productive on meds, she missed the high of occasional mania and she hated the weight gain that is a common side effect of the drugs she was taking. Stable, she would sometimes declare that she wasn't sick after all and didn't need medication — another very common reason people give for quitting their meds.

Yet if she even inadvertently missed a few days of medication — even while receiving therapy and other forms of treatment — the demons would return, and one of the first things they would tell her was to stop taking her medicine. The second thing they would tell her was not to talk to her mom, the most powerful other influence in her life. Each time she obeyed and relapsed, she plunged into a longer free fall, hitting the ground harder, recovering more slowly and returning at a lower plateau.

The final time she entered this cycle was last fall, when Natalie became convinced she was among the 1 in 4 people with psychotic disorders whose symptoms improve only minimally or not at all with medications. There were no apparent signs of psychosis, and she seemed happy and healthy to everyone around her, but she said we couldn't see inside her head. In November, six years after her first break, she announced that because she was going to have hallucinations anyway, she was giving up meds for good. Now 28 years old, she stopped the injectable antipsychotics and oral mood stabilizers that had helped her rebuild her life, and her mind began its final, fatal unwinding.

Natalie was a believer that treatment worked and that the mental health system needed to be reformed so other people received the kind of care she had when she was in crisis. She told her story in a documentary short last year about the criminalization of mental illness. She dreamed of being a peer counselor. She said she wanted to help others as she had been helped — until she became convinced that she was beyond help.

In the weeks since Natalie's death, the outpouring of sympathy and grief from legions of people who have fought demons have made me keenly aware that the pain I feel from her loss is but a drop in the ocean of pain created by untreated mental illness. Wrote one woman, "I have bipolar disorder and can't even begin to tell you how many people over the years have said to me, 'Be glad that is all you have.' 'It could be worse, you could have cancer or some other terminal illness. . . . ' It saddens me that so many people do not realize that mental illness, while treatable, is not a curable disease, and can lead to death."

My daughter lived more than six years with an incurable disease that filled her head with devils that literally hounded her to death, and she did it while laughing, painting, writing poetry, advocating and bringing joy to the people around her. She was the bravest person I have ever known, and her suicide doesn't change that.

"Natalie will help our society to move forward," a postdoctoral fellow at Johns Hopkins Hospital wrote me upon learning of the suicide. "She is helping us to look at mental illness with the respect, the compassion and the dignity it deserves."

I hope so. Natalie would have loved that legacy.

as a result of Natalie's suicide

Fuller is executive director of the Treatment Advocacy Center, an Arlington-based nonprofit dedicated to eliminating barriers to treatment for people with the most severe psychiatric diseases.
http://www.forevermissed.com/natalie-ann-fuller/#lifestory

Natalie's Lifeline

April 17, 1986 - Born in Ventura, California, after Mom labored 55 hours - a week and a half in the office. Everyone always thought that was a funny line. Except Mom. Joined Greg and Daddy at home to make us a family of four.

January 1, 1987 - Moved with Mom, Dad and Greg to La Jolla, where she went to The Children's School for preschool and Mission Bay Montessori for kindergarten. Her best friend was Jenny, who lived next door, and her favorite thing to do was draw and paint, sometimes even herself. Maria was her beloved nanny who never minded playing Barbies with her like Mom did. Brothers DJ and Alex frequently came to stay. When Maria's toddler son David joined the household and everyone was together, we were a family of eight. She began spending summers at Rawhide Ranch, which would become like a second home to her into her 20s. She prided herself on becoming an A-team vaulter (gymnastics on horseback). When allowed, she binge-watched "The Little Mermaid" - and every Disney princess movie.

June 1992 - Moved to Dillon, Colorado, at 10,000 feet in the Rockies, where she declared she hated skiing and learned to ice skate. She starred as a pig in the spring play, piggy nose and all.

August 1993 - Descended  to the Mile High City, where the family lived in Greenwood Village, and she went to Greenwood Elementary, the Challenge School and West Middle School. She won a citywide prize for designing a birthday card to Beethoven and learned to run hurdles. She especially loved Easter egg and scavenger hunts, the playhouse Daddy created for her in the garage attic, playing with makeup and boys. She was joined at the hip to Jamie. They were inseparable - and sometimes double trouble.

June 2000 - Flew second seat in Mom's "My Wings" Miata while Ken pulled the U-Haul from Greenwood Village to her newest and ultimate home in Sandpoint, Idaho, where she always said she wished she'd been born and grown up. She loved ... everything about it, except maybe daily doubles on the volleyball team. She found her first boyfriend and her first love, made scads of friends - including Zibby, her forever bestest - managed the high school's wrestling team, went to Girls' State, competed in Junior Miss, became Miss Teen Idaho International, tipped cows, did everyone's makeup for all the big dances, went to state championships in hurdles, was always an honor student, discovered that bussing tables required way too much multitasking and generally ... loved life, spread sunshine and made everyone laugh.

May 2004 - Became a published author when "Promise You Won't Freak Out" was published by Berkeley books. She was described on the cover as "social, active, fun-loving. Likes volleyball, boys, writing, shopping, boys, movies, cooking, watching TV reality shows, painting, and well, boys." None of that ever changed.

June 2004 - Graduated as a proud bulldog of Sandpoint High School. Greg and Dad and Basia were there, and a grand brunch followed for family and friends in the house Mom and Ken built on the shores of Lake Pend Oreille. Dad gave her his beautiful black Volvo as a present, which she treasured for at least a couple months before she figured out she could sell it, buy a cheaper car and use the difference in price to ... go shopping! Typical Nat.

September 2004 - Began the eight-year plan to a college degree, starting at the University of Puget Sound, where she majored in fun, met her next-bestest forever friend, Ginny, bonded with Chloe, Emily, Cat and the others and ultimately decided she never ever wanted to live somewhere it rains every day.

September 2005 - Transferred to Orange Coast College in Costa Mesa, California, where it definitely doesn't rain every day. Got to live around her stepbrother Jon. Worked at Sephora where she could indulge her taste for expensive makeup free. Met Aaron, her third forever bestest, who taught her to eat organic, scramble eggs, appreciate wine and probably some other things she never told Mom about. They stopped being a couple a couple years later, but Aaron never stopped being there for her, and she never stopped loving him. Applied for a job at Disneyland. In the space to fill in "Position Desired," she wrote "Princess." Of course.

Spring through Christmas 2006 - Returned to Rawhide Ranch as a CIT and stayed on as staff through Christmas. Lived in a grungy dorm where she could hear mice scrambling in the walls as she fell asleep but loved every minute of it and always hoped to return and work. It never happened.

January 2007 - Began her third and final college career at the University of Idaho, where fun was now only her minor, and she excelled as a studio art student, painter and sculptor. She especailly loved reconnected with Sandpoint High friends who'd been there all along and wondered why she left Idaho in the first place.

Summer 2008 - Reveled in her summer abroad program in Barcelona, where she learned to work with glass - in which she would create many of her most creative expressions - was visited by Ginny and saw the Prado with Zibby, who came for a European road trip. Ended the summer in Cardiff, Wales, at Greg and Carole's wedding, where we learned later she was beginning to hear voices.

December 2008 - Experienced her first psychotic break at home in Sandpoint while Greg and Carole were visiting from Italy. From then until her death in March 2015, Natalie lived with severe bipolar disorder and psychotic symptoms that led to many hospitalizations.

May 2013 - Graduation! Dad and Rose came from California for the big event, and the troops at her group home threw her a party.

September 2013 - Moved to Arlington, Virginia, to live with Mom and near Greg and Carole (and, ultimately, baby Abby). LOVED being in DC - the museums, the Metro, the urban vibe, being near her family. Met the first guy she really cared about in ages. Made friends. Decided she was a city girl after all.

March 14, 2015 - Died way too soon by suicide in Baltimore, Maryland.

From December 2008 until her death, Natalie's severe mental illness - often untreated because she rejected the medications she needed to be sane - sometimes dominated her life but never entirely defined it.

Through it all, she continued to write, to paint, to dazzle with her creativity, to inspire, to delight and to be herself. She fell in love and made friends. She never stopped thinking of others and brought joy to many. She also continued to shop, watch movies ("Silver Linings," endlessly), paint and, of course, love boys.

Becoming her beloved Natalie's most ferocious protector and champion led Mom into her final career as the executive director of the Treatment Advocacy Center, which is dedicated exclusively to creating access to treatment for people, like Natalie, who struggle to stay in treatment and live on with the most severe psychiatric diseases.

Natalie always said that mental illness sucked but at least it gave Mom a meaningful job.

Until the very end, she always was always looking for silver linings.



I suspect something similar happened to Holly Jo Glynn

_________________
If you only knew the POWER of the Daubert side

redpill




Posts

: 4026


Join date

: 2012-12-08



Natalie's symptoms probably began in her junior year of college, but — like nearly every other family member who ever talked to me about their own loved one's unraveling — I had no frame of reference to recognize them for what they were.
No frame of reference? Really? Maybe you should've re-read that book you and Natalie had written going into all her escapades and how open she was with you. If the book wasn't a load of crap, you should've saw this coming a mile away.
In college, Natalie had simply intensified all the things she had already been doing in high school. Some people cant deal with it and are headed for a crash. Passing this off as a "psychological break" and letting her off the hook with no responsibility or consequences to her actions is bordering on insulting.

She went a week without sleeping more than a few hours a night and seemed to have endless energy.
Its called taking meth.
But she was traveling abroad then and relying on caffeine to stay awake.
Laughable.
A few months later, she reported that one of her friends had begun whispering whenever Natalie turned her head away. But the girls were on the road together in close quarters and having some spats.
That's a huge 'but'.
I want you to notice a pattern. When Natalie was home and sticking right by her mother's side, she was normal. Once going out into the world, her 'mental breaks' happen again.
Its the classic symptoms of a drug addict.
Putting her on all those meds was a mistake. Denial played a big role in this story and when you mix in 'regular' drugs with all that other stuff she wound up taking, no surprise this led to disaster.
She had probably blown her mind on meth in college.
Each time she obeyed and relapsed,
And there it is. The kernel of truth buried in the overall story.
I had no idea you had posted about her. I know I sound cold but I never bought the second and third act of their story. I'll admit their book was great but like I said up above, if she didn't see any warning signs then she was in even bigger denial than her daughter.
Those 'missing years' are a huge chunk of time and they are merely glossed over in the tribute. I might read their book again. Would be an interesting read knowing she kills herself a decade later.
I never heard of Holly.

TracyB




Posts

: 226


Join date

: 2017-12-14



i don't know Natalie fuller personally, but the news articles i've read did not mention any drug use.

bipolar does have some genetics involved.

holly glynn was a Jane Doe i worked on. and helped solve.



_________________
If you only knew the POWER of the Daubert side

redpill




Posts

: 4026


Join date

: 2012-12-08



i don't know Natalie fuller personally, but the news articles i've read did not mention any drug use.
I know...its been conveniently erased from the narrative.
She shows many symptoms of drug use. A week without sleeping? Crazy mood swings that always manifest themselves when she's away from her mother?
I also know what "majored in fun" really means...drugs, booze, and casual sex.
Even this....
Dad gave her his beautiful black Volvo as a present, which she treasured for at least a couple months before she figured out she could sell it, buy a cheaper car and use the difference in price to ... go shopping!
This is a minor red flag. It's impulsive, irresponsible, and immature.
About to go off to college and you sell a dependable car for a cheaper one just so you can pocket the cash and "go shopping".
Why wasn't she working?
I also don't think its a coincidence that the downward spiral went into overdrive as soon as she went off to college. I'll give credit where it's due...she's clearly a high functioning teenager that is going places. On the surface anyways. Notice the transformation once she hits college.
She becomes flaky. She's literally bouncing from college to college practically by the semester. That is a HUGE red flag. No one detects it.
I know its another one of those cases where I sound cold. I feel for her...I really do. Even when you're enjoying college it can be a crazy time in your life. I think both her and her mother were in denial and they kept up the charade. Maybe her mom didn't know the full story. We'll never know.
She has the classic symptoms of a college student getting in too deep to drugs. Only thing missing from that story is dropping out....and technically she did drop out as there's an extra five year break before graduation.
Another red flag is the "missing years". Her mom skips five years and then two more years in that timeline as if its nothing. It isn't nothing...its literally the last years of her life.
Something is being kept from view...and its not mental illness.

TracyB




Posts

: 226


Join date

: 2017-12-14



her medical diagnosis was bipolar, and that she was having a manic episode.

there is a genetic component in bipola disorder

_________________
If you only knew the POWER of the Daubert side

redpill




Posts

: 4026


Join date

: 2012-12-08




---
Permissions in this forum:
You
cannot
reply to topics in this forum