Rupert i know you love profiling as in Mindhunter John Douglass
you've mentioned profiling john douglass and mindhunter a lot.
this case Australian suitcase girl UID you can let your profiling imagination run wild.
How to solve Australian suitcase girl is a UID
basic info
On July 15, a motorist who claimed they were 'drawn to something on the side of the road', found a faded suitcase lying open with clothing and other items scattered nearby close to the road and near a set of low bushes dotting the landscape.

When police investigated, they noticed a jawbone poking through piles of children's clothing.

Stuffed into a 40cm wide weather-beaten case, in between a Dora the Explorer t-shirt and pink tracksuit pants, a pink toweling slipper, black tutu dress and satin Size 2 boxer shorts with kittens and teddy bears on them, were the skeletal remains of a child.

Forensic officers who examined the bones say the girl was between two-and-a-half and four years old, Caucasian with fair hair and could have died up to eight years ago.

The gap between the estimated time of the girl's terrible death and the dumping of her remains fits in with what the websleuth bloggers have deduced about the origins of the clothing.

Police released photographs of the black tutu dress, the pink slipper embroidered with a butterfly motif, a smiley-faced T-shirt, what they originally thought was 'a child's ruler', two pairs of boxer shorts made from the teddy bear and kitten patterned fabric, and the faded suitcase.

The photographs sparked excited chatter among the websleuth bloggers who quickly identified the 'child's ruler' as the plastic tag from a Lanza brand bag, with its distinctive diagonal logo.

They moved on to the issue of  the black tutu dress, which also had a distinctive feature of large coloured sequins cross-sewn onto the tulle skirt of the garment.

The amateur sleuthing of the blogger mum and others who have posted on a police Facebook page place the clothing or fabric as dating back to at least seven years ago, tying in with the date SA police estimate the child was murdered.

Websleuth blogger Pheme quickly identified the tutu dress as 'from a store called Cotton On. My daughter had the same one when she was about 2. Not sure how long they stocked it for though or even if they still do'.

Snoop Dog responded, finding a photograph on ebay of an almost identical black tutu made by the Australian clothing giant Cotton On.

The only difference was the large cross-sewn sequins were of a single pale pink colour, whereas on the tutu found with the slain child, some of the sequins appeared blue or green, but this could have been as a result of the weathering which has also seen the deteriorated black bodice of the outfit lose much of its colour.

Daily Mail Australia has also identified a pink slipper, strikingly similar in design of the found item, but with a 'Hello Kitty' motif instead of the embroidered butterfly design.

Police then released a photograph of a badly degraded, colourful quilt, and quilters lit up the South Australian Police Facebook page with a discussion about the origin of the fabric squares in the quilt design.

Following this, the SA Police released a further image of the 90cm square quilt along with seven octagonal patches identified by their fabric, featuring musical notes, stars, teddies, a camel, pumpkins, flowers, insects and animals.

Detective Superintendent Des Bray, the officer in charge the SA Police Major Crime Investigation Branch, said the identified quilt patches included the pumpkin design and the musical notes border, which were an exact match, and the other fabric patches were a close likeness.

Supt Bray said the images of the items found with the girls' remains had sparked a massive public response.

On the SA Police Facebook page, quilter Emma Stenhouse wrote that the kind of quilt in the photo released by SA Police was often called an 'I-spy' quilt as they could be used with children playing the I-spy game.

Emilee Egeberg went to Google images and wrote on the Facebook page that she had found a product called an 'I spy kids quilt' from 2008, which had the exact musical note fabric in some of its patches.

Could this 'I-spy' quilt be made by the same quilt maker who produced the degraded item found with the body of the murdered girl dumped by the South Australian highway in July?

Heather Symons wrote that the musical note fabric had been around 20 years ago, sold by the Spotlight fabric outlet, and that the star fabric was from the same series.

Emma Rains shared the information with 'my Mum's patchwork group', saying 'someone must know something'.

Speculation that the fabric from the United States, meaning the quilt was possibly American-made, was quashed by the SA police, who said the fabric was probably imported from the US and sold here.

Other posters on the police Facebook page, who are taking a closer look at the patchwork designs, may come up with further clues.

Mellissa Preusker thought she could identify the '2nd hexagon from the right, top row. Looks like a 'Unicorn' fabric with a white unicorn head (facing to the left) and pink background. Seems familiar, but not sure where i have seen it.'

Daniella Erin wrote on the page that she recognised the 'cartoon face of a lady ... but for the life of me I can;t figure out from where. Maybe a Loralie design?!? I'm hoping somebody else does. It's been driving me nuts.'

SA Police are continuing their investigation and say they have excluded 32 missing children as the potential victim.

Read more:

http://www.dailymail.co.uk/news/article-3191854/New-clues-South-Australian-murder-mystery-girl-s-skeleton-suitcase-boxer-shorts-match-boys-pyjamas-Sally-clothes-tag-identified.html#ixzz3mxrybItj

Follow us: @MailOnline on Twitter | DailyMail on Facebook
an entire cadre of volunteer UID sleuths have looked at the clues and are attempting to locate brand-new versions of the items she was found with, and perhaps trace retailer or sellers of the items
Late last month a group of mothers on the 'websleuths' online forum uncovered new clues in the case of the murdered 'suitcase girl' whose remains were dumped with a bag of children's clothing by the side of the road in a remote outback railway siding town.

In a discussion on a websleuths.com forum, the women have identified the distinctive tutu adorned with large sequins as a Cotton On brand dress for young girls which was discontinued several years ago.

The keen-eyed blog posters also identified the item originally described as a child's ruler as a Lanza brand luggage tag, probably from the faded bag in which the remains lay amid numerous items of clothing, and a patchwork quilt found in a degraded state as an 'I-spy' quilt.

Read more:

http://www.dailymail.co.uk/news/article-3191854/New-clues-South-Australian-murder-mystery-girl-s-skeleton-suitcase-boxer-shorts-match-boys-pyjamas-Sally-clothes-tag-identified.html#ixzz3mxqlRFwS

Follow us: @MailOnline on Twitter | DailyMail on Facebook
Clothing from suitcase found on side of SA highway
Rupert when i say profiling, that's an awful lot of clues left behind. what would be a reason her killer would kill her AND stuff all that highly incriminating evidence into a suitcase and then just place the suitcase by the road, as opposed to burning it or dumping it in a lake where it will never be found?  did the killer want her to be found and if so why? did the killer not think the internet would be used and volunteer sleuths would see photographs of the clothing to try to identify her? call it twenty guesses. if she is identified we can compare our guesses before and after.
and profile the girl. what kind of girl was she and life she lived?
fun. if it is solved you can compare your profile to what they found.
for example, maybe her family - couple is murdered and girl initially was abducted then murdered. maybe her family accidentally killed her. maybe they killed her in blind rage.
fun. i had fun profiling other UID including dana point jane doe. our profiles were completely and totally wrong as to who holly glynn actually was - a middle class party girl and led zeppelin fan essentially whose drug use damaged her brain.
my solution first identify what the objects are, brand new, where they were purchased and any buyers who bought them - or donated. use all social media facebook instagram etc to see if photos of those items appear with any child using image search
if possible create a face from skeletal remains. if not. then they can do better than this

Forensic officers who examined the bones say the girl was between two-and-a-half and four years old, Caucasian with fair hair and could have died up to eight years ago.

this is what LE did
i think LE and volunteers can do better. just ask any parent to volunteer any 3-4 year old child who fits this description

Forensic officers who examined the bones say the girl was between two-and-a-half and four years old, Caucasian with fair hair and could have died up to eight years ago.

at one point they considered madeleine mccan as a possible match.
any of these girls could work
if possible make hair style match hair and color as closely as found on decedent.
then dress her with brand-new versions of each and every clothing item found and holding pictured blanket
basically what i am proposing is see this 3 year old?
caption reads Blonde three year old girl wearing red top laying on grass
replace the red shirt and blue jeans with the brand-new versions of each and every clothing item found on UID. take high resolution photographs make 4k video upload on youtube and post on social media. in many different angles. make clear that the girl is a model. also have her own top of clean brand new blanket, same coloration as found with UID
seeing an actual girl wearing those clothing, in different combinations and different angles, may help jog some memories. it may either directly lead to ID of girl or help narrow location, stores, shops it was sold. or names of places  or ballet schools etc. check murdered couples.
basically take any 3-4 year old, one used to modelling for photos, make her hair color and hair style match as closely as possible, perhaps asses her skeletal remains for whether she was short, tall, skinny, etc., for her age,  then dress her in brand new versions of below
so instead of blue jeans she'd wear a brand new clean version of this
seeing them on an actual living breathing moving volunteer girl may help lead to her ID and possibly her killer. i would recommend making a youtube video as well.
her parents could be american or canadian due to travel vacation so enter in codis share with us and canada dna


_________________
If you only knew the POWER of the Daubert side

redpill




Posts

: 2351


Join date

: 2012-12-08



update she has been identified as toddler Khandalyce Kiara Pearce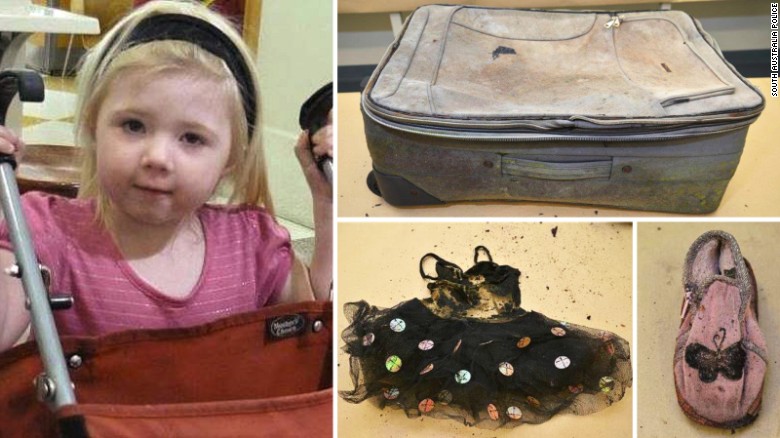 _________________
If you only knew the POWER of the Daubert side

redpill




Posts

: 2351


Join date

: 2012-12-08




_________________
If you only knew the POWER of the Daubert side

redpill




Posts

: 2351


Join date

: 2012-12-08



LE have announced that 41 year old Daniel Holdom is the killer and they suspect it may be resulted to $25k drug debt of her mother karli. Holdom apparently took $90k from her bank account.
http://www.adelaidenow.com.au/news/south-australia/khandalyce-kiara-pearce-birth-certificate-allegedly-found-at-home-of-daniel-holdoms-sister/story-fni6uo1m-1227605383339
Police allegedly found the birth certificate of murdered girl Khandalyce Kiara Pearce at a house linked to her mother's accused killer last month, it has been reported.
The remains of two- year-old Khandalyce were found in a dumped suitcase on the side of a highway near Wynarka in South Australia in July, while the body of her mother Karlie Pearce-Stevenson was found in the Belanglo State Forrest in 2010.
The man accused of murdering Ms Pearce-Stevenson, 41-year-old Daniel James Holdom, is alleged to have killed her in the forest in December 2008.
Last month it was revealed the two cases were tied together, and on the same day police announced the link Fairfax Media reports detectives searched the home of Mr Holdom's sister after a tip-off, locating Khandalyce's birth certificate.
In late October police revealed Ms Pearce-Stevenson's identity, bank account and mobile phone were used for years after her death to mislead family and defraud social services.
It was estimated up to $100,000 was taken from her bank account between 2008 and 2012.
A woman in a wheelchair also impersonated Ms Pearce-Stevenson in a Centrelink interview in 2010.
Mr Holdom's former girlfriend Hazel Passmore, who uses a wheelchair, has been questioned several times but has not been charged with any offence.
Ms Passmore was first questioned after photos of Khandalyce Pearce were found on her Facebook page.
The page was disabled soon after but one photo pictured the blonde-haired child standing in an automotive display garage in front of a car with the hood propped open.
The photos were dated August 2008, several months before police believe the mother and daughter were killed.
Mr Holdom is due to appear in Central Local Court in Sydney later today.
Read more at
http://www.9news.com.au/national/2015/11/12/05/18/khandalyce-birth-certificate-reportedly-found-at-home-linked-to-accused-killer#c6y0te5lsv7PJlkh.99

_________________
If you only knew the POWER of the Daubert side

redpill




Posts

: 2351


Join date

: 2012-12-08




this my friends is Yoda
Yoda once said once you go to the dark side, forever will it dominate your destiny.

earlier I wrote about Dana Point Jane Doe aka Holly Glynn who along with Sara Townsend got involved in drugs and eventually over several years committed suicide.

over this summer there were 2 brand new UID, Bella Amoroso Bond and Khandalyce Pearce-Stevenson. Bella's parents used drugs, and killed her out of physical abuse. Khandalyce Pearce-Stevenson mother also used drugs.
both bella bond and Khandalyce Pearce not only were identified but solved.
http://www.dailymail.co.uk/news/article-3306861/Karlie-Pearce-Stevenson-drug-runner-fled-Alice-Springs-25-000-debt-murdered.html
Karlie Pearce-Stevenson 'was a drug runner who fled Alice Springs with a $25,000 debt' before she was murdered and her daughter's bones were found in a suitcase

Karlie Pearce-Stevenson owed $25,000 drug money before she was killed

Ms Pearce-Stevenson planned to smuggle drugs from Adelaide to the NT

The shocking revelation came from someone with close ties to the family

Daniel Holdom has been charged with Ms Pearce-Stevenson's murder

No one has been charged over the death of her daughter Khandalyce

Murdered young mother Karlie Pearce-Stevenson had a drug debt to the tune of $25,000 before she was killed, an informant has told police.

A person with close ties to Ms Pearce-Stevenson's family told police that before the 20-year-old was murdered, she had been planning to do a drug run between South Australia and the Northern Territory, The Advertiser reported.

He said Ms Pearce-Stevenson left Alice Springs with her daughter Khandalyce in 2008 with money she was allegedly going to use to buy drugs that she would smuggle from Adelaide to Darwin.

Read more:

http://www.dailymail.co.uk/news/article-3306861/Karlie-Pearce-Stevenson-drug-runner-fled-Alice-Springs-25-000-debt-murdered.html#ixzz3t2dqqree

Follow us: @MailOnline on Twitter | DailyMail on Facebook
https://en.wikipedia.org/wiki/Deaths_of_Karlie_Pearce-Stevenson_and_Khandalyce_Pearce


The deaths of Karlie Pearce-Stevenson and Khandalyce Pearce were initially treated as unrelated. The skeletal remains of Pearce-Stevenson were found in Belanglo State Forest, NSW, Australia, in 2010. Her daughter Pearce's remains were found near Wynarka, South Australia (1,100 kilometres (680 mi) from Belanglo) in July 2015. The two cases were not linked until positive identification was confirmed by DNA testing in October 2015. The mother and daughter were last seen by family in 2008 in Alice Springs, Northern Territory and reported missing in 2009, however the report was withdrawn. It was discovered Pearce-Stevenson's mobile phone was used for years following her death to send false "proof of life" messages to family and friends. The mother and child's identities were exploited by third parties to commit social security and other types of identity fraud.[1]

On 28 October 2015 a man was arrested in Cessnock, New South Wales and charged with the murder of Pearce-Stevenson.

Contents

1 Belanglo State Forest
2 Wynarka
3 Linking the events
4 Victims
5 Suspects
5.1 Arrest
6 Identity theft
7 See also
8 References

Belanglo State Forest

On 29 August 2010, trail bike riders discovered skeletal human remains in the Belanglo State Forest in New South Wales. Media reports at first linked the killing to Ivan Milat and the backpacker murders,[2] but later forensic examination found the remains had been left there many years after Milat was jailed in 1996 for seven murders.[3] In a 2010 appeal for information, police called the woman "Angel" after the motif on a t-shirt she was wearing.[4]

On 21 October 2015, the bones were identified as the body of Pearce-Stevenson, aged 22, from Alice Springs.[5]
Wynarka

On 15 July 2015, the remains of a young child surrounded by girl's clothing were discovered by a passing motorist who examined an abandoned suitcase at the side of the Karoonda Highway near Wynarka in the Murray Mallee region of South Australia. From the beginning, investigators believed the child had suffered a violent death several years before the remains had been dumped in the suitcase.[6] It was not until October 2015 that the victim was identified as Pearce, aged two, who, with her mother, had been reported missing from Alice Springs more than five years earlier, in 2009.[7]
Linking the events

Soon after the discovery of the child's remains, police made a public appeal for information that could help identify her, based on items that were found with the suitcase including children's clothing and a distinctive hand-made quilt. After more than 1200 calls to Crime Stoppers, one caller was able to identify the quilt as one made by the child's grandmother, who had died in 2012 believing her daughter and granddaughter were living interstate.[8] Positive identification was achieved by comparing DNA extracted from the child's skeletal remains with DNA retained from a neonatal heel prick test.[9] A national DNA search then linked the child's remains with the profile of her mother, the previously unidentified remains found in the Belanglo State Forest.

The last confirmed sightings of the mother and daughter before their deaths were on 8 November 2008, when they were stopped by police on the Stuart Highway near Coober Pedy in the far north of South Australia, and in Charnwood, a suburb of Canberra, in December 2008.[8][10][11]

NSW and SA police conducted a joint investigation, including collaboration with ACT and NT police.[10]
Victims

Karlie Jade Pearce-Stevenson was born around 1988 in Alice Springs and attended Braitling primary school and Alice Springs High School. She was a keen netballer. Her mother died in 2012. Pearce-Stevenson's step-father and step-brother still live in Alice Springs.[10]

Khandalyce Kiara Pearce was Pearce-Stevenson's daughter.[10] She was born in 2006 in Alice Springs.

Pearce-Stevenson is believed to have left Alice Springs with Pearce in 2008 to look for work. Police believe they travelled to Darwin, Adelaide, the Murray and Riverland districts, Victoria and Canberra, and appealed to owners of motels, hotels and caravan parks to check their records in case the pair had stayed at their premises. A missing person report was raised with the Northern Territory Police by Pearce-Stevenson's mother on 4 September 2009.[12] The report was closed on 9 October 2009 after "she was reassured Karlie was safe and well, but did not want family contact at that time."[13] Police also believe Pearce-Stevenson was killed in Belanglo Forest on 14 or 15 December 2008, and her daughter was killed sometime later in a different location.[1][11] Investigators have not revealed details of injuries, or how the pair were killed, however, police said the child died a "violent death under terrible circumstances".[6][14]

The remains of the two victims will be returned to Alice Springs for burial with the assistance of funds raised from the public and local government.[15]
Suspects

Within days of releasing the identities of the victims, police reported they had several suspects, including one in a NSW jail awaiting sentencing on unrelated charges.[10]
Arrest

On 28 October 41-year-old Daniel James Holdom was arrested in Cessnock, New South Wales.[16] He was later charged with the murder of Pearce-Stevenson.[17] He was found to be in a relationship with a woman who allegedly hijacked Ms Pearce-Stevenson's identity after she was killed and investigators believe the suspect was also involved in a relationship with Pearce-Stevenson.[11] Police allegedly traced a signal from the man's mobile telephone to the location her remains were found in Belanglo Forest at about the time of her death in December.[14]

In September 2008, the suspect had been involved in a car accident in which two of his then partner's children were killed. The mother of the children sustained injuries that left her confined to a wheelchair and she is believed to be the same woman who impersonated Pearce-Stevenson at a credit union in 2010.[18] Earlier, in August 2008, the woman had uploaded images of Khandalyce Pearce to her Facebook.[19] The child was photographed in the company of her own children at a motorshow in Alice Springs.[20]
Identity theft

Pearce-Stevenson's mobile phone was used until mid-2011, communicating via text messages to give her family and friends the impression she was alive and well, and to appeal for money. Her bank account was accessed until at least 2012 at locations in four states and territories.[18] Over $90,000 was stolen through the account, including Centrelink family payments and other proceeds of fraud. A woman in a wheelchair, accompanied by a man, impersonated Pearce-Stevenson to staff at a credit union in June 2010 using her identity documents. Another woman impersonated her at a Centrelink office in South Australia the same year, using identity documents for Pearce-Stevenson and her daughter Pearce.[1]
drugs ruined this young woman's life, then she met someone who killed her for money.
drugs are a path to the dark side.
it is still something mysterious that Khandalyce remains were stuffed in a suitcase, then somehow found its way onto a highway where it was eventually reported by the public. why not bury them or throw them into a river? good guys win this time




_________________
If you only knew the POWER of the Daubert side

redpill




Posts

: 2351


Join date

: 2012-12-08



as far as FBI offender profiling is concerned, i don't think there's an FBI profiler or any profiler that would have correctly profiled this case. Khandalyce has a 20 year old mother  
Karlie Jade Pearce-Stevenson who was a drug user and wanted to make money as a drug runner to pay for more drugs. She met an individual 41-year-old Daniel James Holdom and while these news reports don't go into too much specifics, it is clear he and possible accomplice murdered her and her daughter for money, used her money, and had a gf pretend to be her to get more social security type money.

based on a 2 year old remains in a suitcase i don't think anyone could have reverse engineered that scenario.

the news articles don't explain the chain of custody that resulted in the suitcase containing  Khandalyce to randomly wind up along side the road where it was found in July 2015. finding that is what set off a chain of events that led to her and her mother's identification AND arrest of her killer, as evidence by all the money Daniel James Holdom and unnamed female accomplices took, which is all recorded on bank accounts.

if Karlie had to get into the drug lifestyle she could have at least had a relative, her mother or aunt or given Khandalyce up for adoption. if Khandalyce were in the care of her grandparents or boyfriend or whoever, while Karlie was pursuing a career as a drug runner, Khandalyce might be still alive.

_________________
If you only knew the POWER of the Daubert side

redpill




Posts

: 2351


Join date

: 2012-12-08




---
Permissions in this forum:
You
cannot
reply to topics in this forum