Iowa Girl Killed In Bizarre Hammock Accident
The Inquisitr-May 19, 2016
Iowa Girl, 13, Dies in Freak Hammock Accident
KTLA-May 18, 2016
13-year-old girl dies in freak hammock accident
fox8.com-May 18, 2016
''I can't believe this happened": Girl, 13, dies in "freak" hammock ...
Virginian-Pilot-May 19, 2016
Death has claimed  13 yo Peri Sagun. all she did is jump onto a hammock that had her sister, but the brick structure the hammock was attached to collapsed, hitting her head and then killing her.
lesson - hammocks can kill
Death is still hungry and so claimed another 13 year old Maddison Wentworth
Maddison Wentworth: Girl Dies Playing Tug-Of-War In Tragic ...
The Inquisitr-5 hours ago
Tragedy struck on Thursday during what was supposed to be an innocent contest of tug-of-war. A 13-year-old girl died a short while after she ...
Middle schooler collapses and dies during field day tug of war
Highly Cited-New York Daily News-May 21, 2016
Every parent's nightmare came true': 13-year-old dies during tug-of ...
Washington Post-May 21, 2016
Thirteen-year-old Maddison Wentworth had been counting down the days until her school's field day activities, friends and family said, ready for .
Teen Girl Dies While Playing Tug-of-War at School Event
Newser-May 21, 2016
lesson: tug of war can kill you
death visits a familiar playground for me, Melbourne Australia
Melbourne university lecturer Maria Strydom dies descending Mount Everest
Updated about 2 hours ago
Dr Maria Strydom poses for a photo.
Photo: Dr Maria Strydom died while descending Mount Everest. (Monash University)
Related Story: Australian, Dutch climbers die after scaling Everest
Map: Nepal
A 34-year-old Melbourne woman has died while descending Mount Everest.
Key points:
   Finance lecturer Dr Maria Strydom died due to altitude sickness while descending
   Her mother Maritha said she was "too devastated to communicate"
   A Dutch climber in the same group died on Friday also due to altitude sickness
Dr Maria Strydom, who also goes by Marisa, was a finance lecturer at Monash University, and fell ill from altitude sickness while descending near the summit.
lesson- death stalks Mount Everest climbers. climbing and descending Mount everest can kill you.
Death is still lurking
Pregnant 26-Year-Old Sarah Iler Killed on Her Way to Deliver Her Baby
www.cosmopolitan.com/.../sarah-iler-c-section-accident/
Cosmopolitan
6 days ago - Sarah Iler, 26, was on the way to the hospital Wednesday with her husband Matt Rider to deliver her baby when a tanker struck another car in .
death shows no mercy. taking a pregnant woman to the hospital can result in some car accident that kills you.
death can happen anywhere, even in the girl's bathroom
http://www.theblaze.com/stories/2016/04/22/delaware-teen-dies-following-brutal-attack-in-high-school-bathroom-that-involved-multiple-girls-on-one/
Delaware Teen Dies Following Brutal Attack in High School Bathroom That Involved 'Multiple Girls on One'

A 16-year-old Delaware girl has died following an altercation Thursday that took place in a high school bathroom.

Amy Francis-Joyner of Wilmington had just celebrated her 16th birthday last month, the girl's relatives told WTXF-TV Thursday. Her family said they had no idea she was having any major problems at school.
this is black girl on black girl violence
attacked while in the girl's bathroom in the toilet.  

can you imagine the news if it was 2 white girls who attacked her or if it were male students who
killed her?
i had no idea this sort of thing can happen  

i know boys are certainly capable of this. males can be aggressive and violent.
lesson you are not safe even if u a black girl and are in the girl's bathroom using the toilet
actually there was another attack but the girl lived
see this girl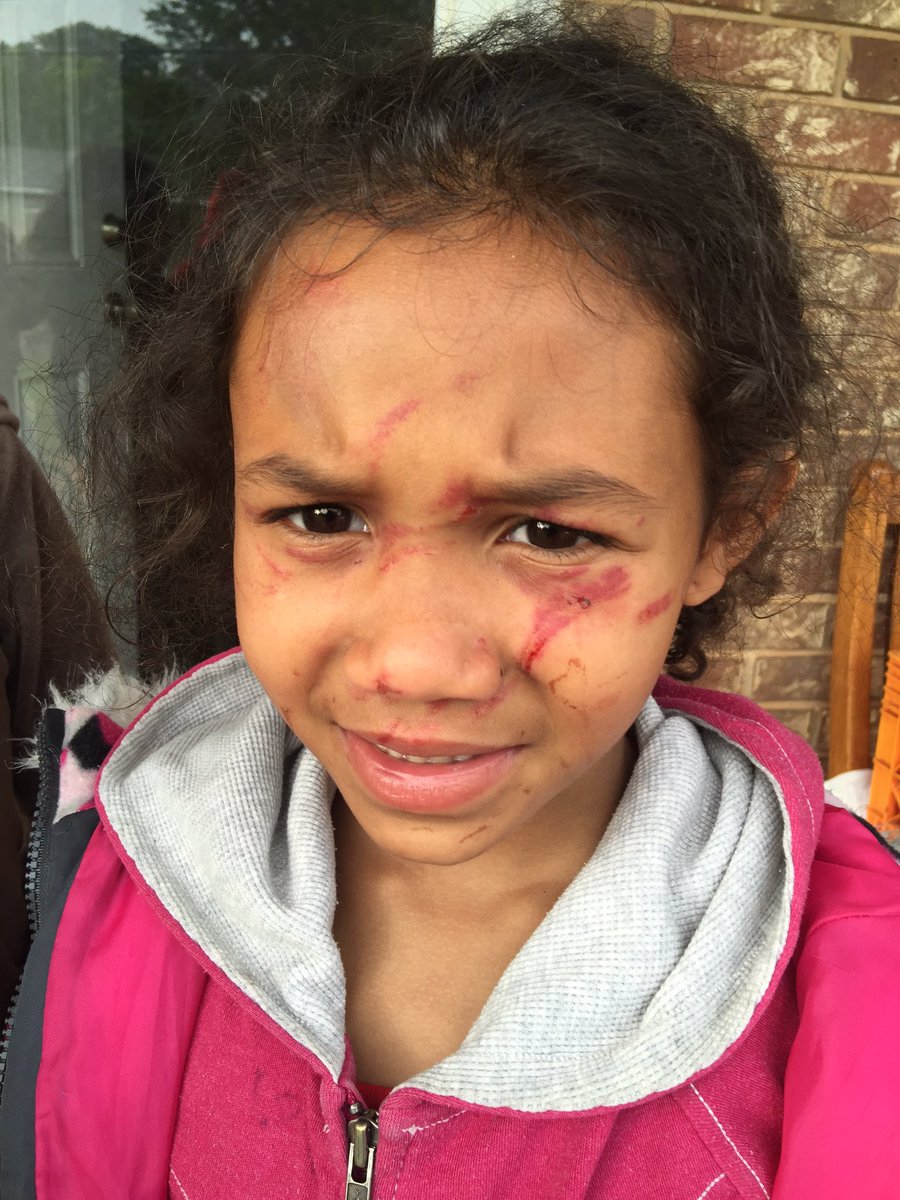 http://fox13now.com/2016/05/20/6-year-old-attacked-by-5th-grader-in-school-bathroom/amp/

6-year-old attacked by 5th grader in school bathroom

   Ashton Edwards and Tribune Media Wire
   3 days ago

McDonough, Ga. – Authorities are investigating an attack on a 6-year-old girl in an elementary school bathroom in Henry County, Georgia.

Deputies say the little girl was attacked by a girl twice her age. The older student reportedly choked her, put her head in the toilet several times and hit her head on the toilet, according to FOX 5. FOX 5 reports that a teacher intervened after hearing a commotion.

The 5th-grader was charged in juvenile court and the school district is investigating, according to WXIA.The child's father, Jeremy Tackett, told FOX 5, "You send your kids to school to get an education; they should not have to worry about getting pulled into the bathroom and getting pummeled by somebody almost twice their age."

The family is taking all of their children out of the school.
IMO the 5th grader should be euthanized like a mad dog with rabies

18 yo  Anna Jaskulka goes to prom. then dies
she drank so much alcohol during her prom she at age 18, is dead

MINNEAPOLIS (WCCO) — Authorities say an 18-year-old girl died Saturday night after attending her North St. Paul High School prom.

Maplewood Police Chief Paul Schnell said Sunday that officers were called to a residence on the 2300 block of Schadt Drive at 11:08 p.m. Saturday. When officers arrived, they found an 18-year-orld girl unresponsive. First responders attempted to resuscitate the girl and she was transported to WoodWinds Hospital in Woodbury, where she was pronounced dead a short time later.

Authorities identified the girl Sunday as Anna Jaskulka and confirmed that she attended North St. Paul High School.

Schnell said investigators are actively working the case and they believe she was consuming alcohol. Authorities are also looking into if other substances were involved in her death.
http://minnesota.cbslocal.com/2016/05/22/north-st-paul-teen-prom-death/

Maplewood police are investigating the death of a teenager the night of her high school prom.

The department's chief says Anna Jaskulka—a senior at North High School in North St. Paul—was found unresponsive at her home Saturday night.

According to authorities, Jaskulka's parents brought her home from the prom and found her unresponsive later that night.

She was transported to a nearby hospital, where she was pronounced dead, authorities said.

Police suspect Jaskulka had been drinking. They are investigating whether other substances were in her system at the time of her death. Given that Jaskulka was underage, authorities are looking into where the alcohol came from. In Minnesota, it's a felony to give a minor booze or another substance that results in his or her death.

On Sunday, classmates reacted to her death.

"The whole thought of a student our age dying, especially this young, it's heartbreaking really," Ricky Sanchez said.

Another student, Sheyenne Phillips, urged everyone to, "wear her favorite color to school to commemorate Anna."

North High School Principal Greg Nelson issued the following statement Sunday in response to Jaskulka's death:

We are truly saddened by the loss Anna Jaskulka, Anna was a student with a bright personality and kind heart. She will be deeply missed. North High will have extra counselors available in the days ahead to support students and staff during this difficult time.

Anna was set to graduate in three weeks on June 8.

An autopsy and toxicology tests are pending.
http://kstp.com/news/maplewood-police-investigate-teen-death-north-high-school-prom-night/4146271/
so the lesson is that drinking too much alcohol can kill. 18 should be peak health.  if  Anna Jaskulka  had been an observant Mormon Christian, the rules of that religion forbid alcohol so she'd might still be alive.  

 so in her case mormon religion might have protected her untimely death at 18.

i would consider going to church and praying if it help keep DEATH away but
1- Brooke willberger was a devout good mormon christian girl who went to church. she did not die of drugs nor alcohol nor mental illness. so being a good mormon christian saved her from anna jskulka's death.
what jesus did not save Brooke from was a sexual predator

brooke needed judo , not jesus
interestingly enough, i know of 2 girl MMA fighters love jesus and also are skilled in MMA
Joanna Jędrzejczyk is current straweight champion and she actually prays before every fight
mma paige vanzant said Jesus told her to go into MMA, of all things. jesus wants her to be a fighter

 too bad brooke willberger didn't get that memo, in time of her rape/murder
sweet jesus. if jesus gave me a girl that looked like that i'd go to church  

16 year old Erica Montague was a devout mormon christian girl.
she got killed in a car accident
http://www.walkerspanishfork.com/obit/erica-leone-montague/

Our beautiful, smart, fun-loving daughter, sister, granddaughter, niece, cousin and friend to all, Erica Leone Montague was welcomed into heaven after an automobile accident took her from us on May 7th, 2016.

Erica was born five-weeks early, on April 18, 2000, to Brad C. & Jennifer (Jenny) Montague, in Payson, Utah.

Erica was able to do so much in the short time she was here on earth; it would take most of us our entire life to do what she did. Erica loved life and lived it to it's fullest.  She had this special spirit that was felt by everyone who knew her.  From the start she had her dad wrapped around her finger.  She was definitely a daddy's girl.  

Erica enjoyed sports, watching TV, movies, going to plays, reading books, vacations, camping at Scofield with the Johnson's, listening to music, singing in the shower, riding in the car, eating out, hunting, hanging out with friends, and helping others.  Erica loved to be involved and do almost everything but clean her room. She wanted to try everything. As a child she was involved in dance from the age of three to thirteen with Cindy, Carly and Cassie Buys; she tried playing soccer in Kindergarten but thought twirling around with her arms spread wide was more fun.  She also tried and was involved in volleyball, basketball, track, and cross country but in her heart she wanted to play and loved softball; in part because of the examples set by her cousins McKell, Shelby & Payton.

Erica played the piano, the accordian, and sang in the choir. Erica had just turned 16 and was a sophomore at Salem Hills High School.  She was involved in the choir and had just made the Serendipity Choir for next year.  She was on the Salem Hills High School Softball team, which she loved.  She looked forward to pancake Fridays with Ms. Jill and the gang, learning how to drive a stick shift so she could drive "little blue" around, and was excited to be going on her first school dance.

Erica is an active member of The Church of Jesus Christ of Latter-day Saints. In her short life she served as the Beehive President, Miamaid President and had just been called as the Laurel President.  She enjoyed going to the temple and doing baptisms for the dead.

Erica is survived by her loving parents, her little/best sister Marissa, her Grandma Janice Patten of Payson; her Grandpa Duayne "Dode" Montague of Salem; special friends Caitlin and Shae; as well as several aunts, uncles, cousins and friends (too numerous to mention). Erica was welcomed into heaven by her Grandpa Duane Patten, her grandma Leone "Bluey" Montague, her neighbor she affectionately called "Grandma Gwenie" and several others that were waiting to greet her and give her hugs.

There will be a viewing on Friday, May 13th, 2016 from 6:00 to 8:00 p.m. at the Payson Stake Center (650 West 800 South, Payson, Utah), and a viewing Saturday, May 14th from 9:45 a.m. to 10:45 a.m. with a tribute and celebration of Erica's life to follow at 11:00 a.m. Erica will be laid to rest at the Salem City Cemetery (130 East 965 South, Salem, Utah) following her services.

Erica's family would like to express their love and appreciation for all of those who have shown their love and support to them. May God bless each and every one of you.


Erica's family like Brooke's turn to jesus and mormon church for strength and comfort. they genuinely believe that their daughter is alive in heaven with jesus
it gives them comfort. while jesus protected them from drugs std's and alcohol poisoning, it didn't protect them from car accidents or predators.

of these the traffic accident is something I'm most afraid of personally  

 followed by attack  

one thing i gain from learning these stories is how fragile life is. i would have never seen sleeping on a hammock to be a problem but now i know better


_________________
If you only knew the POWER of the Daubert side

redpill




Posts

: 2444


Join date

: 2012-12-08




---
Permissions in this forum:
You
cannot
reply to topics in this forum