this is 25 year old  Jennifer Groesbeck
this is what happened and why

Mother who crashed into icy river and died a day before her toddler was found alive in the upturned car was high on heroin and prescription drugs

   Jennifer Lynn Groesbeck, 25, crashed off a bridge in Spanish Fork, Utah
   A fisherman found the car the next day, partially submerged in the water  
   Groesbeck was dead in driver's seat but her daughter was alive
   The 18-month-old, called Lily, was pulled from the wreck and survived
   A medical examiner ruled that Groesbeck was under influence of heroin as well as Clonazepam, THC, morphine, codeine and hydromorphone
   A small bag of marijuana and some tramadol were found in the car  
A Utah mother who died after crashing her car through the guardrail of a bridge and into an icy river was high on heroin and a cocktail of prescription drugs at the time of the crash, authorities have confirmed.  

Jennifer Lynn Groesbeck, 25, was killed after she lost control of her vehicle in Spanish Forks, Utah.

However her 18-month-old daughter Lily was miraculously pulled alive from the partially submerged vehicle in March despite being inside for 14 hours.

A medical examiner found a mixture of intoxicating substances in Groesbeck's system, including Clonazepam, THC, morphine, codeine and hydromorphone.

According to Fox 13,the report also indicated the presence of 6-monoacetylmorphine-free – a finding which is indicative of heroin use.
A small bag of marijuana as well as the drug tramadol were found in the vehicle, police say.

The medical examiner concluded Groesbeck died 'as a result of blunt force injury of the head. Other significant conditions include mixed drug intoxication.'

Groesbeck crashed about 10.30pm on March 6.

Her car went into the river after it struck a cement barrier on the south side of the bridge.

However the partially submerged car was not spotted until the following morning by a fisherman.
According to the Deseret News, the first call for help was made to a non-emergency line, with the caller saying: 'Are you guys aware there's a car in the river on the south end of Spanish Fork, Main Street, over the bridge?

'I didn't see anybody when I came in here and I can't see in the car.'

Then four minutes later, the same caller dials 911 directly saying: 'There's a car in the river. It's upside down off of Main Street and there is a person inside. I can see a hand.'
Rescuers could hear Lily in the car and managed to pull her out.

However Grosebeck had been dead for several hours.  

Officers formed a line in the river and handed the cold girl to one another until she was on the shoreline and in emergency workers' arms.

They rushed her to an ambulance and performed CPR.

It is still unclear how she managed to survive hanging upside down in her car seat for 14 hours with no food or water.
Read more:
http://www.dailymail.co.uk/news/article-3324784/Mother-crashed-icy-river-died-toddler-miraculously-pulled-car-high-cocktail-prescription-drugs.html#ixzz4ERcsmV2J
Follow us: @MailOnline on Twitter | DailyMail on Facebook
her obituary

1989~2015

Our loving daughter, sister, and mother Jennifer Lynn Groesbeck passed away suddenly on Friday March 6th, 2015 in Spanish Fork. She was born on May 26th, 1989 in Provo, Utah. Jenny was the youngest of 5 children. She lived in Provo most of her life and graduated from Provo High School. At the time of her death she was enrolled at Provo College in the Medical Assistant program.

basically her use of recreational drugs in her system impaired her ability to drive, and that resulted in her hitting a concrete divider, drove off the bridge and crashed into the river. she was killed instantly and her head was submerged. her baby was still alive but hanging upside down.
so she didn't die of  a drug overdose, nor suicide, but drugs impaired her driving with fatal consequences
this is what makes this story paranormal
http://www.deseretnews.com/article/865623741/Child-stuck-14-hours-in-wrecked-car-still-critical-mom-remembered-as-compassionate.html?pg=all

wrote:

Rescuers recall 'distinct voice' that spurred them to rescue trapped toddler

'We know there was some other help there,' officer said

Summary

Four police officers all said they heard a voice that spurred them to roll over a wrecked vehicle and rescue an 18-month-old girl who had been trapped inside and upside down for 14 hours. The crash killed the mother but the young girl survived.

PANISH FORK — Four Spanish Fork police officers all said they heard it.

"We've gotten together and just talkin' about it, and all four of us can swear that we heard somebody inside the car saying, 'Help,'" officer Jared Warner recalled Sunday.

But when they flipped the vehicle resting on its hood in the Spanish Fork River onto its side Saturday, they discovered there was no one inside able to speak.

"The only people in there were the deceased mother and the child," said officer Bryan Dewitt.

"We're not exactly sure where that voice came from," Warner told the Deseret News.

But because of the actions of those officers and several Spanish Fork firefighters, 18-month-old Lily was rescued. She remained at Primary Children's Hospital Sunday in critical condition but was reported to be stable.

Police believe Lily was upside down, strapped in her car seat for up to 14 hours. Her mother, Lynn Jennifer "Jenny" Groesbeck, was killed in the crash.

Sunday, flowers and a wreath were placed on a dirt pile near the embankment where Groesbeck is believed to have vaulted off of and into the river. Investigators painted marks next to tire tracks and scuff marks on the bridge that spans the river, indicating that at least two tires went over the curb and traveled 30 to 50 feet before hitting the incline of the cement barrier, likely launching the vehicle into the river.

Groesbeck, 25, was driving home to Springville from Salem, where she had been visiting her parents. She was killed about 10:30 p.m. Friday when her car went off the road where Arrowhead Trail connects with Main Street. What caused the car to go off the road was still under investigation Sunday. Because of where the vehicle landed, it was difficult for anyone to see the wreck from the street above.

Fourteen hours later, about 12:30 p.m. Saturday, a fisherman spotted the vehicle and called police.

Dewitt was one of the first officers to arrive. The incident was originally reported as a possible abandoned vehicle in the river. But as he got closer, he said he could see the mother inside. Three more officers arrived almost simultaneously at the river.

And that's when they heard a voice.

"We were down on the car and a distinct voice says, 'Help me, help me,'" Dewitt recalled.

"It wasn't just something that was just in our heads. To me it was plain as day cause I remember hearing a voice," officer Tyler Beddoes said. "I think it was Dewitt who said, 'We're trying. We're trying our best to get in there.'

"How do you explain that? I don't know," he said, adding that the voice didn't sound like a child.

"It was a positive boost for every one of us because I think it pushed us to go harder a little longer. I don't think that any one of us had intended on flipping a car over that day," Beddoes said. "We know there was some other help there, getting us where we needed to be."

When the officers flipped the car onto its side, that's when they realized that a child was still inside.

"I was terrified there was a little baby," Dewitt said. "My initial instinct was that she was dead. When we were able to cut her out, pass her out, the first thing I saw was her eyes fluttering. So it was kind of a positive sign of life for me, at least. But knew she wasn't out of harm's way, either."

After Dewitt discovered the child, firefighters Paul Taultomadakis and Lee Mecham jumped on top of the vehicle.

"Got the door open, and Lee jumped up with me and held the door while I kind of got down inside, grabbed the baby girl, lifted her out of the water and unhooked the car seat," Taultomadakis said. "Didn't really think about anything except trying to get her out. Once I got ahold of her, I could tell that she still had some life."

After Taultomadakis pulled Lily out, the police officers and firefighters started passing her up the hill until she got into Warner's arms.

"I ended up with the child in my arms and I just ran up the hill and into the ambulance and we drove off, started CPR and anything we could do to just save her," he said.

Lily was improving Sunday, according to Jill Sanderson, Groesbeck's sister.

"She is doing remarkably well considering the circumstance. The doctors have been hopeful so far," Sanderson said. "We would like to express our appreciation to the Spanish Fork rescue team for saving the baby's life."

But as Sanderson and her family were thankful that Lily's life was saved, they were also mourning Sunday the loss of her mother.

"Her baby was the love of her life. She was an amazing mother," her sister said. "She was very compassionate and a very loving person and always willing to bend over backwards for her loved ones."

Several of the firefighters who jumped in the river, which was 10 feet deep in places, were treated at a hospital Saturday for hypothermia.

"The water temperature is so cold, but we don't really feel that until a long time after as far as how cold you actually were," Beddoes said.

All of the rescuers involved said both instinct and adrenaline kicked in once they realized there was a toddler still alive inside the vehicle.

"It definitely picks up your adrenaline a little bit. Once you find out that somebody had been in there for that long and they've got a chance from your efforts, it's very rewarding. It makes everything worthwhile," Mecham added.

All involved said the rescue operation went as well as anyone could have hoped for.

"We couldn't have asked for anything to have gone better. All the officers did exactly what they needed to do. All of our guys did exactly what they needed to do. It was seamless and everybody knew where they needed to be. It went very well, very fast," Mecham said.

Groesbeck was the youngest of five children, including three brothers. She lived in Utah County all of her life, going to school at Provo High and was currently enrolled at Provo College. Being in the outdoors and spending time with her family were two things that she loved doing, Sanderson said.
so all 4 police officers/first responders heard a voice that said "help, help" a woman's voice, none could see nor knew there was a young toddler, barely alive. when they attempted to rescue her.
the woman was already dead for some time

so what was the voice from the 4 rescuers heard?
they believe it was the ghost of the mother, alerting the rescuers that her daughter is trapped in the car but still alive.
that's paranormal
this exact scenario actually has happened before
her name was  Christine Skubish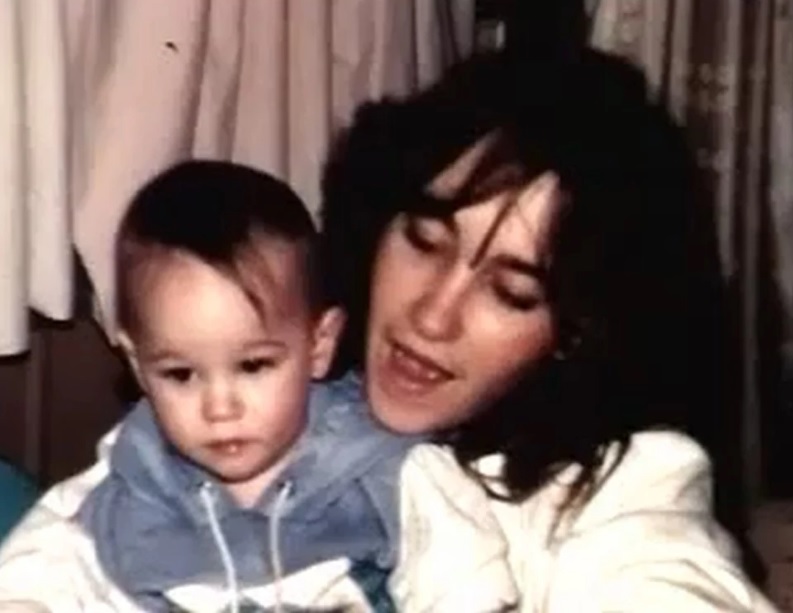 Real Name: Christine Skubish (Scoobish is an alternate mispelling)
Nicknames: No Known Nicknames
Location: Placerville, California
Date: June 6, 1994
Date of Birth: October 24, 1970

Nick and Christine Scoobish

Occupation: Paralegal
Date of Birth: October 24, 1970

Details: Christine Skubish and her three-year-old son Nick were involved in a car accident in June 1994 along Highway 50 in the Sierra Nevada Mountain Range in California. She was a single mother who had recently earned her paralegal certification and was also hopeful about marrying her son's father. She left her family's home near Sacramento on June 5, 1994 and was reported missing on June 8 by Dave Stautzenbach, her stepfather, who called the police to make a missing-persons report on her disappearance.
Suspects: None
Extra Notes: This case originally ran on the February 21, 1997 episode.
The paranormal attributes of this case were featured in the series, Paranormal Witness.
Deborah hoyt

Results: Solved. Christine's whereabouts were deduced by a patrolman reacting on a paranormal vision on Highway 50 by a local woman named Deborah Hoyt. Five days after the crash, Deborah and her husband drove along the same stretch of road and were startled by what they claimed was a naked woman on the side of the road. Deborah and her husband immediately called cops to the scene. Police canvassed the area and found the son, Nick, alive and coherent, but they unfortunately came upon the dead body of his mother Christine.
It was suspected that Christine had risen from the dead to protect her son and had appeared to the Hoyts in an effort to get them to call police.
Paranormal witness offered more to the story. They found no drugs in Christine's system, so they believe given she was driving a very dangerous winding road at 2am in the morning, she dozed off. That momentary mistake resulting in her going down a very steep cliff and crashing into a tree, killing her instantly. her infant son was still alive.
Deborah Hoyt felt something terribly wrong with her friend, convinced her husband to drive the same area, and saw a naked woman. she then called police. there they discovered the car crash and Nick, her son, still alive.
Christine Skubish was 24 when she drove off the road and died instantly on impact, but with a surviving todler son Nick in the car, but no one knew where they were or that they were even injured
Jennifer Groesbeck was 25 when she drove off the road and died instantly on impact. when first responders arrived none had any idea there was her daughter, a todler Lily, was still alive.
the surviving children of both mothers were rescued due to a paranormal voice from beyond the grave to result in the rescue.
gives me hope that perhaps there is an afterlife of sorts. perhaps there is more to reality than what science says. that there are things in this world science cannot explain.
2 mothers died as a result of driving errors that resulted in a fatal accident, but their child was alive, but were going to die unless their dead mother's spirit did something from beyond the grave - contact first responders.
i wonder if there are other examples of this happening.

specifically the mother dies, child is still alive but will die unless he or she is rescued, so the mother's ghost contacts rescuers from beyond the grave.




_________________
If you only knew the POWER of the Daubert side

redpill




Posts

: 2285


Join date

: 2012-12-08




---
Permissions in this forum:
You
cannot
reply to topics in this forum