Caleb Thomas Schwab was decapitated from a water slide sometime before 2:34pm on Sunday August 7, 2016.

He was only 10. He got 10 years of life before he was on one of the world's tallest water slide in Kansas City, Mo, he somehow got thrown from the raft and it resulted in him becoming decapitated. He was killed instantly, and there was a trail of blood and his headless body.  

"As we try to mend our home with him no longer with us, we are comforted knowing he believed in our Savior Jesus, and they are forever together now."
safety lesson: being on a very tall water slide, or roller coaster, can result in you losing your head, literally. And if it happens it is instantly fatal with no recovery.  

I would consider giving my life to Jesus Christ if it protected me from fatal accidents like this.  

this is a photo of Caleb Thomas Schwab 10
i'm looking at the photo of  Caleb Thomas Schwab  and I start to feel dejavu. I've seen and heard this before. Young boy. photo. dead. headless. head in water.
Dejavu
oh yeah
Adam John Walsh (November 14, 1974 – July 27, 1981)  age 6. Also decapitated and head was recovered in water.
Dejavu occurs when there is a glitch in the matrix.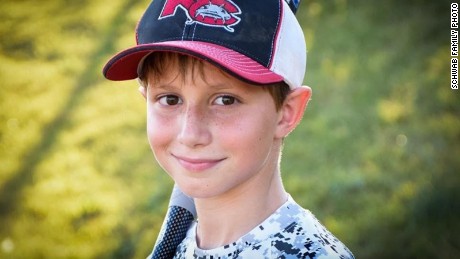 both boys young, 6 and 10. Both died in the summer, July vs August. Both headless. Both holding baseball bat. Both have photos of baseball cap. Both white boys, very similar looking and similar interests.
2016-1981 = 35 years. in 35 years - 2051 - will another boy holding a baseball bat and wearing a baseball cap, white boy, age 6-10, be decapitated in the summer, and his lifeless head will be found in the water?
deja vu
does this mean we are living in
i am neo. i sense deja vu as a glitch in the matrix
we live in a computer simulated reality.  











knock knock

_________________
If you only knew the POWER of the Daubert side

redpill




Posts

: 2351


Join date

: 2012-12-08




---
Permissions in this forum:
You
cannot
reply to topics in this forum