things happen in this world that are hard to imagine.
earlier i had discussed suicide of Jenny Fry, 15 of the UK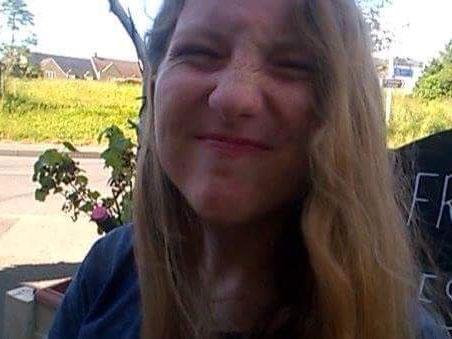 due to wifi allergy
another truly unique suicide just today Phoebe Connop 16 also of the UK
the sun wrote:
A TEENAGER committed suicide after becoming concerned about an offensive photograph she had taken being shared online.

Phoebe Connop, 16, had been speaking regularly online with a man who she called her boyfriend despite the two having never met.

An inquest in the UK heard she shared an edited picture of herself where her skin tone had been darkened as she wore a scarf wrapped around her head in a private Instagram chat with pals.

The schoolgirl said to friends that is what she would have to look like to get approval from her "boyfriend's" parents.

But a coroner was told the image was then taken out of the private chat and spread wider by one of her friends, prompting Phoebe into fearing a backlash.

The teen tragically took her own life after sharing a picture with friends, a court heard. Picture: FacebookSource:Facebook

Black Country Coroners Court heard Phoebe had been working with her father Laurence, 53, to get some money for her summer holidays on July 7 this year.

He had taken her home early due to her feeling unwell but tragically found his daughter's body when he returned after work expecting to find her ready to go for a meal.

Just days early on July 2 the award-winning gymnast had posted pictures of her school leavers prom on her Facebook page.

Giving evidence at the inquest, which was held on Friday, Detective Sergeant Katherine Tomkins, from West Midlands Police, said: "From speaking to her friends in the weeks following her death, we discovered that the image had circulated further than she wanted it to.

"There had been some negative reaction and she confided in her friend, who did take the image down at her request, that she was scared of what the reaction might be from the Asian community in her area."

The inquest heard Phoebe, who lived in Halesowen, West Midlands, was a talented gymnast who had ambitions of becoming a midwife.

Her family found a "wish list" in her bedroom following her death which listed that she wished to study at sixth form.

Her dad Laurence Connop told the inquest said: "She was a lovely girl who would never want to cause offence to anyone.

"She had shown me no indication in the weeks leading up to her death that there was anything wrong, let alone anything that would lead her to do this."

Recording a conclusion of suicide, Black Country Coroner Zafar Siddique gave his condolences to Phoebe's family.

He said: "This is an absolute tragedy for the family and I can't imagine the pain and distress they are going through, as well as her friends.

"There is nothing I can say to help with the pain but I offer my sincere condolences."

After Phoebe's death, a book of condolences was opened in the pupil's honour at Windsor High School in Halesowen.

Head teacher Stephen Lanckham said: "We in the Windsor community are deeply saddened by this sudden and tragic loss.

"We will remember Phoebe as a confident, warm and caring girl that was heavily involved in all aspects of school life.

"Our thoughts and prayers are with Phoebe's parents, family and close friends at this difficult time and we will offer all the support and care we can to help.

"Phoebe will be lovingly remembered by all who had the pleasure of knowing her."

An area in the school's spiritual garden has also been chosen by Phoebe's parents to be dedicated in her memory which will allow friends to reflect or pray at the spot.

If you or someone you know needs help, please contact Lifeline on 13 11 14.

This story originally appeared on The Sun.


daily dot wrote:
Teen commits suicide over alleged fear she'd be seen as racist in shared photo

A 16-year-old girl took her own life after a private Instagram message was shared online, the U.K.'s Telegraph reported.

Phoebe Connop, who lived in a suburb of Birmingham in England, had reportedly been flirting with a boy of Indian or Pakistani descent (referred to as "Asian" in the U.K.) when she took a joke photo of herself with darkened skin and a scarf wrapped around her head.

Connop sent the photo to her friends in a private Instagram message, along with a message saying that she would have to look like that in order to get approval from her love interest's parents.

According to Detective Sergeant Katherine Tomkins, who spoke at an inquest on Friday, the offending photo was then shared by Connop's friends.

"From speaking to her friends in the weeks following her death, we discovered that the image had circulated further than she wanted it to," Tomkins said as quoted by the Telegraph.

Tomkins continued: "There had been some negative reaction and she confided in her friend, who did take the image down at her request, that she was scared of what the reaction might be from the Asian community in her area."

Connop committed suicide on July 7 at home, allegedly because she feared being branded as racist after the photo leaked.

The Telegraph did not mention whether anyone would face charges in the case related to public distribution of a privately shared photo.

In a similar case in the U.S. in April, a Missouri teen killed herself after classmates posted "mean" Facebook comments about her.

For more information about suicide prevention or to speak with someone confidentially, contact the National Suicide Prevention Lifeline (U.S.) or Samaritans (U.K
so this is suicide due to a photo of her being darken was afraid to see as racist.
kind of  reminds me of this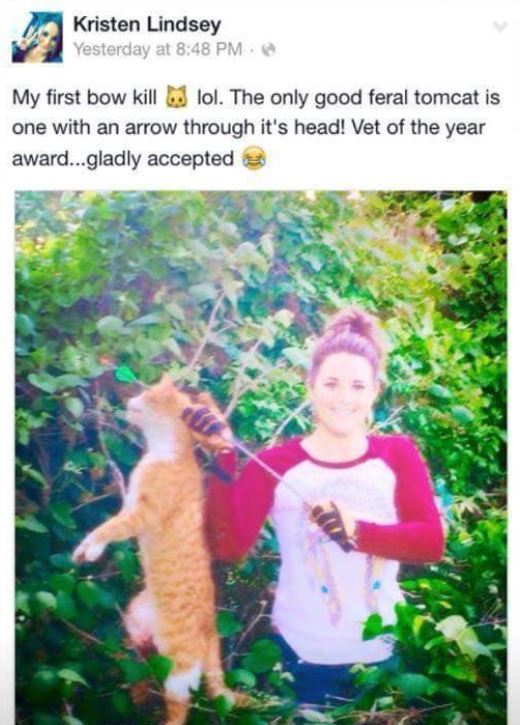 kristin lindsay didn't commit suicide but her post and bragging of her killing a cat did cause an outrage among animal rights activist and cat lovers. given that lindsay is a DVM, they targeted her license to practice veterinary medicine. Texas board of medical examiners agreed and revoked her license to practice. they posted it on their site. however, lindsay now is fighting this in court.
there are many facebook sites "justice for tiger, cat killed by kristin lindsay" wanting her to lose her license permanently, which may really happen.
if i were Phoebe Connop i'd would have told anyone who complained it was a private photo and a joke.
Australian girl speaks out on bullying and suicide
http://www.newshub.co.nz/world/australian-girl-speaks-out-on-bullying-and-suicide-2016083021

wrote:

A young Australian girl has spoken out about the relentless bullying that made her feel her only option was to take her own life.

Twelve-year-old Tayla's story is part of a special investigation on SBS news show The Feed looking at how widespread the problem is and how difficult it is for authorities to prevent it.

The girl's family was eventually forced to leave their Queensland home after repeated attempts to seek help from Tayla's school.

She told reporter Patrick Abboud kids called her a freak and other abusive names and even urged her to drown herself.

"I wanted to die," she told The Feed. "I wanted to leave this world and never come back."

After a suicide attempt, the family made a fresh start in Cairns, where Tayla is now receiving the help she needs.

Mother Kali showed the programme a series of tortured drawings the girl had made and said she believes she would have died had the family stayed.

"No mum wants to see their kids drawing these things," she said.

Victoria is the only state in Australia with legislation criminalising bullying. Mr Abboud says the law has acted as a deterrent.

"I'm not saying let's lock the kids up, but like any crime there is a scale of punishment," he told News.com.au.

"Tayla's in a good place now. Her story is heartbreaking. She's such a brave kid."

Readers seeking support and information about suicide prevention can contact Lifeline's 24-hour telephone counselling service on 0800 543 354.
world's full of psycopathic bullies.
https://www.tvnz.co.nz/one-news/world/wanted-leave-world-australian-girl-12-attempted-suicide-after-anti-bullying-petition-went-viral

wrote:

A Queensland mother has shared her heartbreak over her daughter's attempted suicide in a harrowing report on bullying in Australian schools.

Tayla Sekhmet, aged 12, started a petition in June calling for help against the bullying she endured in Central Queensland's Dysart State High School, which soon gained traction with thousands of signatures.

SBS show The Feed decided to make an investigative documentary after seeing the petition, however revealed the project was halted when Tayla attempted suicide before filming started.

In the show which aired in Australia last night, reporter Patrick Abboud said Tayla's attempt at taking her own life made him more determined to finish the documentary.

"I was severely bullied at school and Tayla's story really resonated with me because of my own experience," Mr Abboud told The Huffington Post Australia.

Tayla's mother Kali described to Mr Abboud the moment she found a series of disturbing drawings made by her daughter, including quotes saying "I hate myself so much I want to die" and "you are ugly and a fat b****" .

"No mum wants to see their kids drawing these things," Kali said.

In her online plea for help Tayla listed the names she was called on a daily basis.

"Every day people call me fatso, weirdo, ugly, freak, and tell me I should kill myself," she wrote in the petition, which has been signed over 110,000 times.

"I'm the most unpopular kid at school and people make my life a living hell."

The Feed found that each day 100,000 Australian students stay at home because they feel unsafe at school.

Tayla now lives in a different part of Queensland and is in a "good place" according to Mr Abboud, and she is currently pushing for bullying to be treated as a criminal offence nationwide.
criminalizing bullying sounds like a step in the right direction. she also moved to another school.
i went to both a private catholic school and a secular, nonreligious public school and i saw a lot of bullying both to myself and others and i think the whole thing is just ridiculous. there were lots of fights and name calling.
i favor home-schooling and home-schooling cooperatives. perhaps special schools where students who were bullied can attend. private or public.
while i do not believe in the christian religion there's this
atheists will call this religious freaks, jesus freaks and what not. but having attended an atheist school full of bullies, drug users, gangs, party goers doing alcohol, drop outs, pre-criminals, torturing and killing cats, setting cats and things on fire, cheaters i think jesus freaks is a better alternative, esp if it prevents bullying, all in the name of jesus.
jesus freaks have this over their worshippers. bullying is a real issue in primary school and beyond. atheism itself has no moral emotional hooks to tell atheist bullies they shouldn't do what they love which is bullying. jesus freaks have this if you claim to love jesus, you shouldn't bully but love your fellow student as jesus would love them, unless they are heretics, abortionists or homosexual, or idolators or what not. if a student in a jesus oriented school says fuck jesus i love bullying kick that student out. for not following jesus example. jesus freaks have deep internal emotional hooks to young children, so they respect jesus and his authority and will comply with his wishes. atheists can claim no such figure or success. why should i care what richard dawkins christopher hitchens or gloria steniem has to say about anything?
thats the redpill truth




_________________
If you only knew the POWER of the Daubert side

redpill




Posts

: 2443


Join date

: 2012-12-08




---
Permissions in this forum:
You
cannot
reply to topics in this forum