features all kinds of murders one example of which
I witness
season 1, episode 2 is about the abduction and murder of Sharon Faye Smith and Debra May Helmick
by Larry Gene Bell
according to the documentary Sharon Faye Smith had a family type party, not teenage party, family get together. while family were in the backyard with bbq, she went to front of home to get mail from mailbox
family noticed she didn't return and went to mailbox
at that time Sharon Faye Smith was already abducted in broad daylight in the afternoon by Larry Bell.
no specifics on how he did so, but obviously he must have driven up, gotten out of her car, somehow overpowered her, and then threw her in the car.
in a later segment they show Larry Bell driving past a swing set, he sees Debra May Helmick exits his car, grabs her off the swing, and throws her into his car and drives off.
both were murdered. Larry Bell was executed.
i'm watching this and other documentaries and i read about other murders and it has dawned on me that i could be murdered anywhere at any time  

so it got me thinking of what sort of ways are there to reduce the risk of being murdered or robbed or even homosexually raped.
i don't have any answers.

but i do look at murders case by case
from zodiac killer to several cases on ID show dates from hell, if you make out with your lover in a car, some killer can come up to your car and shoot you.
Michael Johnston/ Michelle Robinson Murders was featured on Unsolved Mysteries.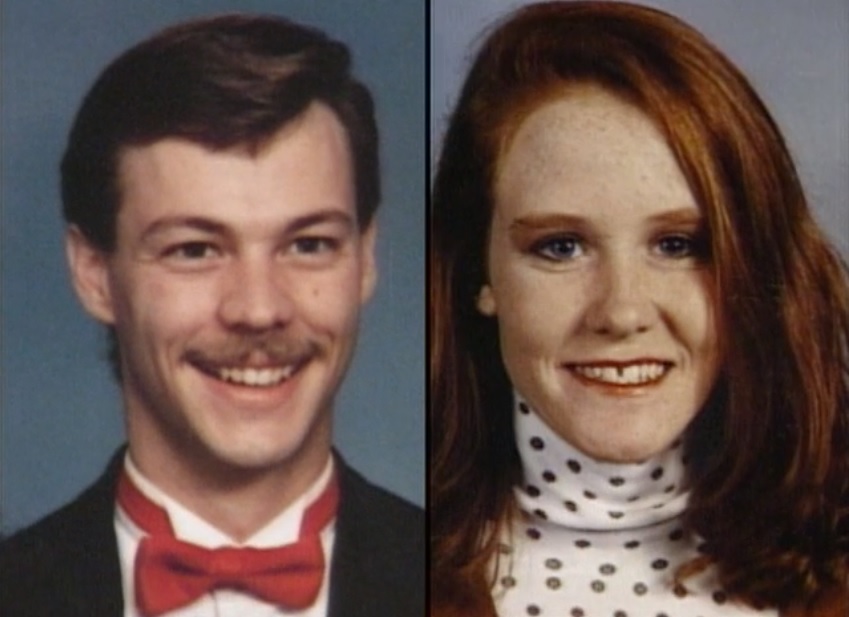 from wiki

Real Name: Michael Johnston and Rochelle Robison
Nicknames: No known nicknames
Location: Tacoma, Washington
Date: June 27, 1994

Michael Johnston and Rochelle Robinson were two friends who had a secret relationship. They shared an evening in June 1994 playing "Magic: The Gathering," a fantasy game, but six hours after it, they were found dead. Police believed that the motive was jealousy over a love affair. He was found dead near her car on a quiet road near a popular shooting range named the Tacoma Sportmans Club; he had been shot in the head and his throat cut. She was found on a remote road five miles away; she had been slashed across the throat and stabbed several times. She was wearing his t-shirt inside out.

Police believe they were discovered during a romantic tryst. He was briefly handcuffed and shot as the killer abducted her. A friend of hers came forward with the fact that she believed she was being stalked and that person might have killed them both. His wife hired a private investigator and passed a polygraph test to determine her culpability in the case. The investigator suggested that they may have been murdered due to his involvement in fantasy games, black magic, and the occult. The investigator soon turned to psychic Nancy Myer. She postulated that three people were involved in the murders and that they were connected to his fascination with the occult and fantasy games. She believes that the killer and the two accomplices had come upon the two lovers in the car and stabbed Rochelle. They then drove him to the Sportsman's Club where they proceeded to kill him. The police, however, believe the killer is among her friends and associates and has nothing to do with the occult. The double murder remains unsolved.
Suspects: Three composites were made of the killer and his two accomplices by Nancy Myer. He was in his 30s while his accomplices were much younger. It is unknown if they are the actual killers.
Extra Notes: This first aired on the March 15, 1996 episode.
Results: Unsolved

remains unsolved


from zodiac killer to this, safety lesson if you make out with your lover in a car in lover's lane
you can be shot and killed by an unknown offender and your murder will be unsolved.
your car won't protect you from being shot by a gun.

but yeah what sort of things increase risk of murder and what sort of things decrease risk of murder

my list includes sex worker/prostitution, drugs, hitch hiking all increase risk of murder.


_________________
If you only knew the POWER of the Daubert side

redpill




Posts

: 2346


Join date

: 2012-12-08




---
Permissions in this forum:
You
cannot
reply to topics in this forum