Sun Jan 07, 2018 1:42 pm
in the 2 years from Force Awakens to Last Jedi, I visited a variety of star wars sites, on youtube there's star wars theory and stupendous wave and star wars reddit and forums dedicated to star wars.
here are some speculation rumors "leaks" from "classified sources" i've heard from these sources prior to Last Jedi
* Han solo's funeral scene. star wars is fiction so it's hard to imagine in reality how you could recover han solo's body after it fell down the shaft in TFA and load it on Millennium falcon before star killer base explodes. but again this is fiction. the rumor was that Last Jedi opening scene would have a funeral procession for Han Solo much like Padme on ROTS.
* all theories of Rey's parents, including daughter of Han and Leia, Luke's daughter hidden after Ben went AWOL, Kenobi's grand daguther, Palpatine's, 2 random jedi trainee's at Luke's academy, Ezra Bridger's and Sabine's
* i think star wars theory was promoting that Last Jedi would show Snoke's home planet and home base, which LOL NOPE
* rumors or leaks that there will be a tree, a magical tree of the force, and this is somehow connected to Rey. Basically Rey was like Anakin a chosen one who was born of the force and this tree is somehow connected with creation of the force itself. i think it is a video on stupendous wave or star wars theory. this one is sorta kinda there
* Rey is the chosen one of the force, somehow connected with the original source of the force
* all theories on snoke, and Last Jedi will explain where snoke came from
* star wars theory definitely promoted the idea that the reason Luke is on Achto the first jedi temple, is that he's researching on how to defeat Snoke. Snoke is ancient, and Luke went looking for ancient texts on snoke to defeat him. Luke intended to face Snoke in combat
* again star wars theory, Snoke gets his power by sucking the life force out of force users, even possibly force ghosts like obi wan, and that even possibly leia will die when snoke sucks her life force, and that the oculus is a vessel of force essence transfer
* that Kylo will reveal Rey the truth, that they are brother and sister or cousins.
* luke would die fighting snoke
* Rey will join Kylo and go to the dark side
* snoke force feats would show him destroying star destroyers or even entire planets.
all i can say is LOL NOPE!
i don't recall any rumors that
* snoke would die, cut literally in half in the second act of the movie
* no explanation of Snoke's origins
* rey's parents are nobodies. i read scores of articles on who rey's parents are, the most logical is she is luke's daughter hidden on jakku after ben slaughtered the other jedi. i don't recall anyone promoting her parents are drunkards.
* luke's actual reason to be on achto is he wanted to die and end the jedi religion  

* daisly ridley said she watched mark hammil do 1 force feat that took all his effort of an entire day.
the only feat i can think of is his fight with kylo ren that would be physically exhausting. luke didn't lift planets - nor snoke
rumors leaks speculation not in Last Jedi but remains to be seen in future materials, unless JJ abrams wants to reverse rian's claims on rey's parents
*  romance between Kylo and Rey
* snoke origin is he is the Prime Jedi, the first of the order this would make him over a thousand generations old.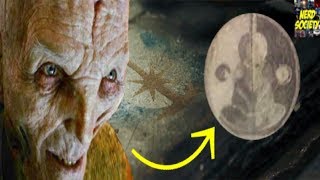 JJ Abrams has 1 movie to tie up the loose ends, unless Rian John's next trilogy will come after this one.
i like the idea this trilogy is the "prequels" and rian johnson's new planned trilogy is the sequel that in 3 more movies fleshes out what happens.
my speculation is that the central issue in episode 9 is kylo rens redemption and death,
snoke has a secret apprentice who then steps forwards and initiates conflict in episode 10-13
for this to work, daisly ridley or someone who looks and sounds just like her, has to play rey  in episode 10-13
daisly ridley though has said episode 9 is her last movie

_________________
If you only knew the POWER of the Daubert side

redpill




Posts

: 3060


Join date

: 2012-12-08



I'm not a big Star Wars fan but I'm going to Star Wars Land when it opens....mainly just for that mindblowing hotel.

I'm also glad I experienced the 'regular' Disneyland. Anyone who hasn't better do it now because Disney is doing a huge remodel/makeover and by the time its completed within a decade, it'll look nothing like the Disneyland of old.

That couldn't have been an easy decision for Disney to make. Part of what sells Disney is nostalgia. We are at a unique moment of history. The people who were nostalgic for the classics are dying and more modern things like Star Wars, Toy Story, etc. are fueling the nostalgia train.

While it will be successful, it's a massive risk that could kill the park in the coming decades. What happens when Star Wars becomes uncool? what happens when no one cares about Toy Story? They're stuck with multi billion dollar investments. it will cause them to start trend hopping. Lets say Scooby Doo gets a massive resurgence next decade for example. They'll have to scrap Toy Story and whip up Scooby Doo land.

Six Flags is in a similar but much smaller situation. Thanks to the superhero craze, they themed the majority of their rides to Superman, Batman, Joker, etc. and with girl power being trendy, now Wonder Woman is being used everywhere.

The moment this craze dies down, they're gonna have to instantly retheme hundreds of rides. It'll be a PR fiasco.

TracyB




Posts

: 226


Join date

: 2017-12-14



yeah i'm kinda a big star wars fan. i met another star wars fan who got me interests in jonbenet ramsey.

_________________
If you only knew the POWER of the Daubert side

redpill




Posts

: 3060


Join date

: 2012-12-08




---
Permissions in this forum:
You
cannot
reply to topics in this forum