Mon Apr 01, 2019
it's april fools, but this is no joke,
i'm reading the news and
University of South Carolina student murdered after mistaking car for Uber, police say
Samantha Josephson 21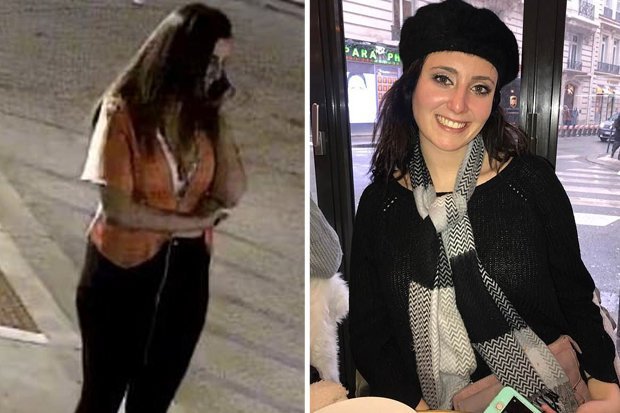 one reason i follow true crime is i learn about the dangers that are out there.

here's a news article
University of South Carolina student murdered after mistaking car for Uber, police say
[ABC News]
ANTHONY RIVAS and CHRISTINA CARREGA
ABC NewsMarch 31, 2019

University of South Carolina student murdered after mistaking car for Uber, police say originally appeared on abcnews.go.com

A 25-year-old man was arrested on Saturday in connection with the death of a University of South Carolina student, who went missing after a night out with her roommates in Columbia, South Carolina, and was found dead in a rural area, police said.

Nathaniel David Rowland was charged for the murder and kidnapping of Samantha Josephson, police announced during a press conference on Saturday. He waived the right to appear at his bond hearing Sunday, according to the

Josephson, of New Jersey, was last seen by friends Friday between 1:30 a.m. and 2 a.m., the City of Columbia Police Department said on Twitter. Shortly after 2 a.m., investigators believe she was seen getting into a black "newer model Chevy Impala," and family and friends had not been able to get in touch with her since then, police said.

The 21-year-old "summoned" an Uber ride during the early morning hours and was waiting for the ride to come, police said. Josephson was seen on video mistakenly getting into the car — a black four-door Chevy Impala — "thinking it was an Uber," police said.

An hour later, around 3 a.m., police made a traffic stop of a car matching the description of the suspected vehicle and the driver led police on a foot chase before he was arrested.

"A large amount of blood" found inside the car's truck and passenger seat matched Josephson's, police said. Her cell phone was also recovered along with liquid bleach, germicidal wipes and window cleaner.
The car's child safety locks were activated, which doesn't allow someone "the means of escape from the suspect vehicle," police said.

Josephson's body was found by a couple of turkey hunters in a rural part of the county that's "difficult to get to," but was familiar to Rowland, who lives in the area, police said.

The victim's father, Seymour Josephson, expressed his devastation on Facebook.

"I will miss and love my baby girl for the rest of life," he wrote. "Samantha is no longer with us but she will not be for gotten."

University of South Carolina President Harris Pastides sent a letter to students Saturday morning confirming Josephson's death.

"It is with the heaviest of hearts that I write these words this morning," he said in the letter. "Our prayers are with the family and friends of Samantha Josephson following the devastating news of her death. Times like these leave me searching for words of wisdom and comfort. However, I take solace that the Carolina Family is here to embrace those who are hurting."


Efforts to reach Josephson's family were not immediately successful.
https://www.yahoo.com/news/fateful-moment-student-gets-random-car-instead-uber-hours-death-230559841.html
how did Nathaniel David Rowland know to pick up Samantha Josephson 21?
and i guess the Uber driver arrived but there was no one to pick up?
Samantha Josephson 21 requested an Uber driver, she entered the wrong car which costed her life.
she entered the wrong car.
i grew up using taxi cabs. so summoning an uber driver you may enter the wrong car with lethal results.
i'm not sure about uber now. i may make the same mistake Samantha Josephson 21
not clear what the motive was - money and robbery, sex and rape, or thrill kill.
not too long ago an uber driver was killed by a teen girl by knife as a thrill kill.
i'm trying to imagine how it all went down.
she entered the car and at some point she realized an error with lethal consequences.
the killer also took risks she didn't have pepper spray or a gun or knife on her.
so...
2 years ago i learned of abby williams and liberty german, and tracyb was active at the time.
today in 2019 i learn of Samantha Josephson 21 entering the wrong car she thought was uber and died.
in life i thought i've been unlucky and wondered if i need to be more religious and spend more time in prayer
but reading true crime i guess my luck could be worse, i could have requested an uber and entered a wrong car and wow, all that blood, sounds like a painful way to die.

_________________
If you only knew the POWER of the Daubert side

redpill




Posts

: 4325


Join date

: 2012-12-08



I saw this mention on the news. So terrible. It seems that Uber isn't totally safe. It is interesting that this true crime is somewhat like a movie that I have seen. A girl calls for an Uber like ride and when it shows up she gets in. The driver offers her a bottle of water and she drinks it not knowing it is spiked with a date rape drug. The young woman wakes up in a strange hotel with no clothes on. For a while she doesn't remember what happened and then memories start coming back. In the end she remembers the rape and catches them; they were brothers working in tandem. Perhaps Samantha's killer saw this movie and instead of raping her decided to kill her. I have always said that criminals get idea from movies and other true crime crimes.

_________________
Bookworm

MurderMysteryReader




Posts

: 225


Join date

: 2015-10-19


Location

: My room



wow, for a second there i thought you had disappeared forever lol, like a ghost.
so...searchingirl disappeared and you're back
i don't think you 2 were ever here at the same time
yeah this is a crazy story, makes me wonder if i will die like this.
ive not heard of that movie though i prefer star wars and the triangle.
i wondered how he got that idea.
and there's also the story of 2 teen boys who tried to rescue a dog but were electrocuted on a bridge that had no warning of electricity

_________________
If you only knew the POWER of the Daubert side

redpill




Posts

: 4325


Join date

: 2012-12-08



---
Permissions in this forum:
You
cannot
reply to topics in this forum