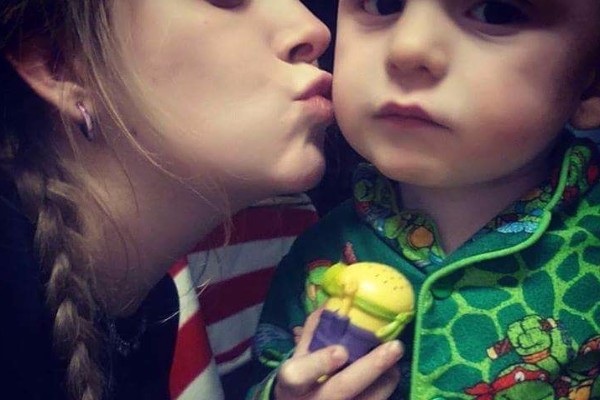 Little Noah Whitcher, 3,
Three-year-old boy, dog die in Hillyard house fire
SATURDAY, OCT. 22, 2016, 9:04 A.M.

1 / 2

Lori Rayburn breaks into tears Saturday, Oct. 22, 2016, when learning the details of a 3-year-old boy's death in a fire while huddled with his dog. Her husband, Jerry Atabelo, left, tried to fight the fire on Friday night with a garden hose from their home at the corner of Myrtle Street and Longfellow Avenue in Spokane. (Dan Pelle / The Spokesman-Review)

A 3-year-old boy who died in a fire late Friday night in Hillyard was found huddled with his dog, who stayed by his side, and a teddy bear.

"They died together," said Spokane Fire Department Assistant Fire Chief Brian Schaeffer.

http://www.spokesman.com/stories/2016/oct/22/child-dies-in-hillyard-fire/
and another source
inside edition wrote:
House Fire Kills 3-Year-Old Boy and Dog That Refused to Leave His Side

A deadly blaze claimed the life of a Washington State toddler who was found next to the remains of his faithful pup that stayed by the boy's side as flames engulfed their home, authorities said.

The body of a 3-year-old boy, identified by relatives as Noah Whitcher, was discovered up against a wall on a bed in the Hillyard home at about 11:30 p.m. Friday, Spokane Fire Department Assistant Fire Chief Brian Schaeffer told InsideEdition.com.

Little Noah was found huddled with his dog, who also died, and a teddy bear, officials said.

"He was critically burned beyond resuscitative measures," Schaeffer said.

The fire, which damaged the home extensively, was especially strong in the part of the house where Noah and his dog were found.

"It was very intense," Schaeffer said.

Loved ones were left reeling from the loss of Noah, asking for prayers at such a difficult time.

"Our family lost a sweet very loving grandson named Noah," his grandmother wrote on Facebook.

"Sweet, sweet boy, how I miss you already. Peace be with you," another relative posted online.

Two adults and three other children in the home made it out safely before emergency responders arrived on scene, Schaeffer said.

He said the home had a smoke detector, but it did not have a battery.

The cause of the child's death, as well as the cause of the fire, is under investigation.
so the dog could have possibly escaped the burning house, esp since dogs have superior sense of smell. instead the dog TyTy  cuddled up next to the boy.
i close my eyes and use my imagination and i imagine this 3 year old boy, then imagine this dog cuddled next to him as the house and fire is burning all around
wow. thats sad
the article linked another story of same thing
Dog Dies While Saving Baby in Fast-Moving House Fire: 'He Stayed With Her The Whole Time'
by Deborah Hastings 1:51 PM EDT, August 18, 2016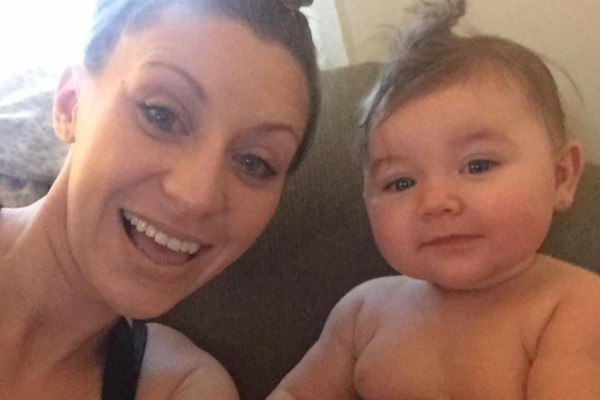 ibid wrote:
An 8-month-old baby is in intensive care after the family dog shielded her from a devastating house fire in Baltimore, a heroic effort that cost the poor pooch his life.

Little Viviana Poremski suffered serious burns to her face, leg and arm when flames erupted as she slept in her mother's row house. Firefighters found her covered by Polo, a black curly haired dog that had spread his furry body across the baby.

Polo did not survive.

"He stayed with her the whole time in the bedroom and wouldn't even come downstairs to get out the door," Viviana's mother, Erika, told WBAL-TV.

he panicked mother suffered burns to her hands when she tried to fight her way inside the burning home late Sunday night. "I just heard her crying and I couldn't get to her," the distraught mom told the station.

Poremski had lit a candle following a power outage, and had walked outside to her car so she could charge her cell phone, she said.

Within minutes, flames erupted. Fire officials are trying to determine what caused the blaze, which quickly engulfed the two-story home.

When firefighters arrived, Poremski was screaming "My baby, my baby!" said neighbor Martha Herman, according to WMAR-TV. The panicked mother was "was running up and down the street and I went over to her right away and she was just, actually, kneeling and praying and screaming," Herman said.

It took about 30 minutes to extinguish the flames, authorities said. Poremski and her daughter lost everything in the blaze.

2 separate dog stories both in 2016 august and october in 2 different locations Spokane Washington and Baltimore Maryland.
house fires are extremely dangerous and deadly and can kill u.
but wow 2 dogs how sad.



_________________
If you only knew the POWER of the Daubert side

redpill




Posts

: 3661


Join date

: 2012-12-08



Hi There, I would like to thank you for feeling grief over my son, Noah and his Dog, Morty. I know this blog is almost 2 years old but I just stumbled upon it and wanted to tell you thank you. In case you or anyone was wondering the cause of fire was from my sister's son. Hes always been intrigued by fire and that particular night my son was spending the night because he had a Halloween party the next day with his cousins. Well my sister had decided to leave him and the other kids home without waking my dad up and telling her she was leaving. So The fire starter was left home "Alone" and the only child awake. He had always resented my son because of how close Noah and my sister were and He lived with his dad full time. So when my sister left he got up on the bed my son was sleeping on "A queen bed loaded with blankets and pillows" and had started the fire 2 inches away from wherw Noah layed sleeping. 2 years prior he tried to burn down an apartment he was visiting in and my sister decided to show him pictures of burn victims and burned houses thinking it would scarw him away from playing with fire. Well it didnt, so when he lit that fire he was aware of the consequences. After a minute of him lighting the fire his older brother got woken up and tried to put the fire out before they "Got in trouble" and the fire just kept growing and growing. By this point their step brother got woken up in a panic and finally after the 3 boys tried spraying the fire with the kitchen sink spray nozzle but it was like squirting a wildfire with a squirtgun, Ineffective, my dads girlfriend got woken up. She came out and just screamed which woke up my son, But at that point the fire had spread quite rapidly around the edges of the mattress so he was cornered, Literally.. The blakets were engulfed in flames and My dad wasnt able to get in the room to him because it was too spreas For him to get in and he had COPD. My Noah Jaims was of coirse screaming so my dad ran Outside thinking he could get him out of the window (the bed was almost directly under it) but when he got out there the window had "Popped" as he puts it so he broke the bathroom window and ran the neighbors hose through it from inside and managed  to get the fire put out but it was too late, My baby was silent and Morty was silent as well.. Morty was always protective over NJ from the time he was a few months old, He had actually managed to get all the way outside until he realized Noah was still in there and screaming so Morty ran back inside to he with Noah, The police report said it appeared he was trying to protect him back from the flames. My sisters son eventually called and told the police he started it but because he was only 10 it was deemed an "Accident" and the case got closed. And they still went ahead and had that Halloween party like nothing happened. In January of 2017, that child tried to start ANOTHER fire. He took all of his toys and clothes and put them in black garbage bags, then he stacked them all on his spaceboard heater and blasted the heat as high as it would go, Then he locked the door from the inside, shut it and went outside to play.. His dad smelt smoke and managed to contain it. He Hasnt been into counseling for it, and his behavior therapist said his behavior improved so much he didnt need counceling anymore. And His grades improved as well.. This is the first time ive publicly told the truth behind his death.. Sorry this is so long but if you've got any questions I'm able to answer them now without having a total meltdown.. Again thank you for feeling grief over him and writing this blog so his story got out there, I dont want him forgotten..

NoahsMommy25




Posts

: 2


Join date

: 2018-09-21



Also sorry for all the typos

NoahsMommy25




Posts

: 2


Join date

: 2018-09-21



hello NoahsMommy25

thanks for sharing this with us and thanks for stopping by. yeah i saw the story in the news and yeah i think is sad. so i thought to mention it here.

I'm sorry you lost your son and dog.

regarding the other boy, i don't know him but loving to play with fire sounds kinda scary to me.

this is originally a true crime blog and i know something about kids who like to play with fire and it's not a good sign

best wishes and thanks for your story

_________________
If you only knew the POWER of the Daubert side

redpill




Posts

: 3661


Join date

: 2012-12-08




---
Permissions in this forum:
You
cannot
reply to topics in this forum