Action Lab Hero Cats of Stellar City vol 3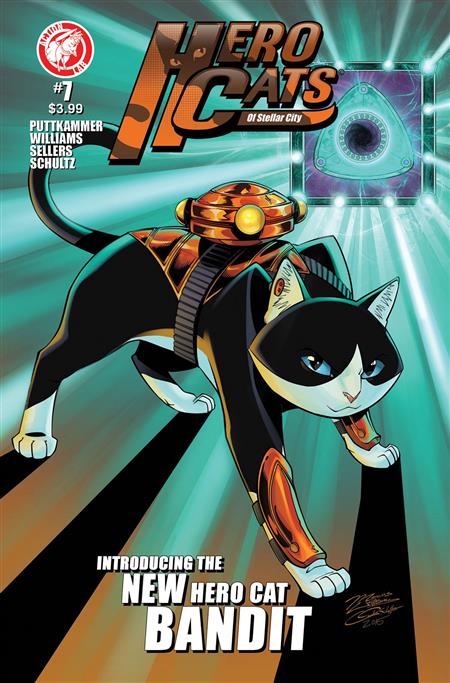 i just finished reading   Action Lab Hero Cats of Stellar City vol 3
contains issues 7 8 and 9
they introduce a new her cat named bandit, a b&w tuxedo cat
bandit steals a usb flash drive from a generic bad guy
early on the hero cats engage a little shop of horror venus fly trap type monster. not much in terms of how it was created or what sort of problems it created.
bandit wants to meet rocket who is a cat that is an expert with computers and can decrypt it.
bandit turns out to be the long lost brother of casopeia, the orange female cat.
this then introduces the main antagonist, the crow king corvus
the crow king's power is to manipulate dreams. sort of like freddy krueger in nightmare on elm street
the hero cats enter the dream world
each cat then becomes a human, similar to avatar, in the dream world.
cats fight crows. the black cat midnight becomes a black creature and threatens the crow king to change his plans or else be trapped forever
crow king accepts and releases his hold on stellar city.
i think for young children the idea of entering the dream world might be a difficult concept, it is similar in spirit to the Matrix
i grew up reading wolverine and the x-men battling magneto and the brotherhood of mutants so this comic is a bit different.
as a kid i grew up in an area that originally had a lot of undeveloped property with weeds growing and uncut trees and ponds. originally. and as a kid i dreamed i was off to find bigfoot or save the world from alien invasion, so this comic sort of reminds me of myself.
if the idea of cats running around talking and having an adventure appeals to you bc u like cats certainly worth  a look.  
2 different librarians at the library i picked this book up asked me about this and i admit i've never heard of it before, though i am aware of scores of lesser known comics from dark horse to image to IDW. both expressed an interest in reading hero cats as they like comics and cats.
i plan to read vol 4 next

_________________
If you only knew the POWER of the Daubert side

redpill




Posts

: 4026


Join date

: 2012-12-08




---
Permissions in this forum:
You
cannot
reply to topics in this forum