from time to time I like watching Naked and Afraid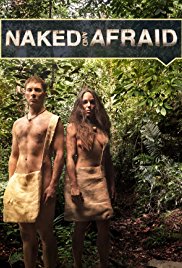 its a survival based challenge where 1 man and 1 woman who are survivalist and naked, try to survive in a location, usually tropical, for 21 days. sometimes the survivalists fail or don't get along and quit
usually they are allowed 2-3 tools, a blade tool, a pot, sometimes a net
Alone is also a survival challenge to see who can last the longest
Finding Bigfoot is coming to an end.
the first "survival" challenge I've wondered about is,
is it possible for the very best Naked and Afraid challenge winners, like EJ and Jeff, to survive in the Pacific Northwest or British Colombia, they are allowed clothing but no tools no fire,
and live like Bigfoot?
if Bigfoot exists, bigfoot isn't known to use fire, tools, weapons. not at all clear what bigfoot uses and shelter and what bigfoot eats.
can the very best survivalists from Naked and Afraid and Alone live like bigfoot for say 21 days, with no fire, no tools?
that's a pretty extreme challenge. it can provide lessons on what bigfoot may eat or find shelter.
in finding bigfoot, bobo renee matt cliff spend just 1 night and 1 day in a location.
just a day for 1 episode.
why not spend 90 days in 1 location?
so another survival challenge is to get the best survivalists with supplies and clothing, and spend their time in 1 location in a bigfoot hotspot, say 90 days or 120 days, but their goal is to actively search for bigfoot and attempt to collect evidence of bigfoot, footprints video tape DNA of hair
they can have food and hi tech like IR gear and drones but mostly on their own. they can tap out anytime they want.



_________________
If you only knew the POWER of the Daubert side

redpill




Posts

: 3221


Join date

: 2012-12-08




---
Permissions in this forum:
You
cannot
reply to topics in this forum